Tripura News
Data Error : CM Biplab Deb gets Trolled in Social Media heavily for giving Different Types of Data on Job Recruitment, Netizens Say, 'BRAIN-CRACK'
TIWN March 21, 2021
PHOTO : TIWN
AGARTALA, March 21 (TIWN): Various types of data on employment generation by CM Biplab Deb amid high unemployment rates in Tripura are erupting resentments. Netizens have trolled CM Biplab Deb in his social media page and media houses social pages also. Along with CM, Education Minister Ratanlal Nath is also getting trolled as he also gave another kind of data on unemployment. A netizen has said, "Brain Crack", whereas another netizen has said, "JUMLA". More comments for both Ratanlal Nath and Biplab Deb came as "apas mein decide kar lo pehele...", "I don't want to use slang... That's it", "CM is tall and so his data is tall and EM is short and so his data too".
When from Medical background to Police Job aspirants are protesting against the Govt's dry-recruitment process and agitating seeking recruitment, Biplab Deb is delivering everyday new, weird job data and thus while addressing in Deworming Day at Teliamura, he has given a fresh data on employment under regular jobs. Netizens have trolled him for his vague data. In the ongoing Assembly, the Day-1 was heated up after BJP MLA Sudip Barman raised question whose data is correct on employment ? CM or Education Minister's ?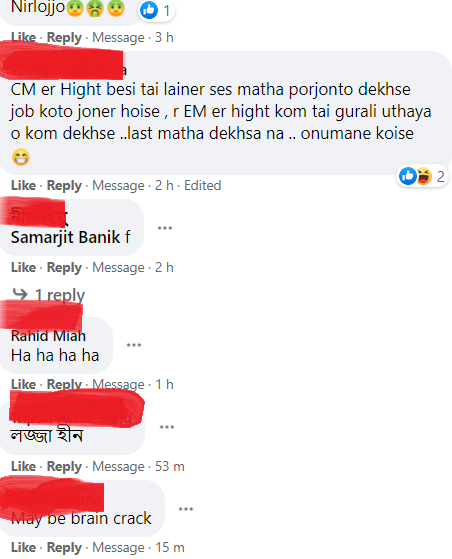 At first it was Biplab Deb who said that 14,798 Jobs were given by his Govt and then followed by controversy, Education Minister Ratanlal Nath says 2,944 Jobs were only given and after the question was raised in Assembly, now Biplab Deb said that around 9,400 jobs were given under regular posts.
"The left leaders are liars. They lie at the Assembly also. From 2005 to 2017, in 12 years only around 14,000 jobs were given by the previous Govt", claimed Biplab Deb. However, whatever data he says, but till now could not show any list of the jobs holders. In last 3 years as per Law Minister Ratanlal Nath only 2,944 jobs were given. It was MLA Sudip Roy Barman who asked Biplab Deb and Ratanlal Nath about whose data is correct.