Tripura News
'Ek Tripura, Srestha Tripura' slogan turns JUMLA : Biplab Deb appointed Udaipur Ramesh School's Girl Student molestor Subrata as CM's Private Secretary, also appointed 2 Lady School Teachers as his Private Secretary
TIWN Oct 1, 2020
PHOTO : Subrata Chakraborty's misdeeds published in local newspapers
AGARTALA, Oct 1 (TIWN): In a shocking note, Udaipur Ramesh School's unpopular teacher Subrata Chakraborty who had hit news headlines in November, 2019 for molesting a girl inside the school but relieved by using BJP spokesperson tag, has now made the private secretary of Chief Minister Biplab Deb. Udaipur's prestigious Ramesh School turned sanctuary of few BJP leaders cum pervert Teachers sanctuary for sexual molestation. Gomati District BJP Prabhari cum Ramesh School Teacher Subrata Chakraborty in Nov'2019 called a class IX girl student to a remote corner of school, touched her private parts, forcibly tried to undress her, molested girl fainted and transported to her home. After 3 days of incident on 26th November when victim's mother came to school to file complaint against Sexual molester Subrata Chakraborty, Head Mistress Shyama Nath flatly rejected any complaint, rather told girl's mother to keep silent over the issue.
Then Head Mistress Shyma Nath engaged another BJP Teacher Monojit Dhar to pressurize the girl and her mother against filing any complaint against molester Teacher Subrata Chakraborty. Due to sever pressure and mental torture victim (underage minor class IX student) afraid to file police complaint. Various student bodies including SFI went to meet Ramesh School Head Mistress Shyama Nath to file complaint but Headmistress ignored to take any action against molestor teacher Subrata Chakraborty.
Now Subrata Chakraborty has been made the Private Secretary of Chief Minister Biplab Deb which has raised questions on the Govt's intention.
Question also raised about how these appointments are given, whether any interview was held or not, whether any advertisement was given or not.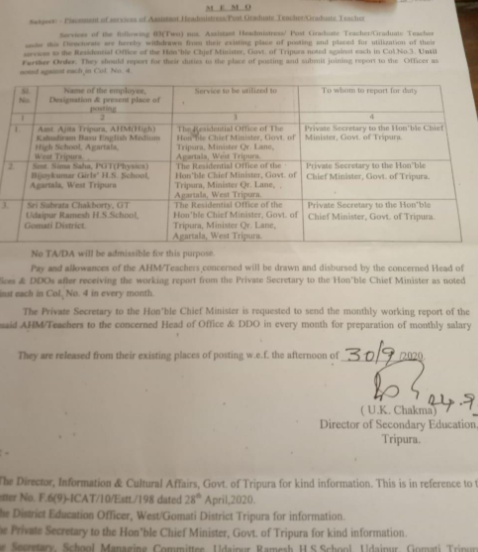 Order copy of new posts appointments