Tripura News
Tripura COVID-19 Status : 807 Patients Recovered out of 1263 Positive Persons, Total Active Cases stand 450
TIWN June 24, 2020
PHOTO : COVID-19 management in Tripua. TIWN Photo.
AGARTALA, June 24 (TIWN): The world is apparently chosen to remain shutdown, as Coronavirus cases seem unending with 9,369,381 cases and 5,060,602 recovery cases claiming 480,095 lives. But still, the world can't stop due to the only disease and thus India also has eased Lockdown rules with total Active Cases now in this country – 183022 and 14476 deaths. In case of Tripura total 807 Patients Recovered out of 1263 Positive Persons, Total Active Cases stand 450 as 1 died and 5 transferred to other states. Along with the whole country, COVID-19 cases are alarming in Tripura too but as the State Govt is focusing more in tests, so numbers of detected positive cases are also reported in time. Tripura's recovery rate is however higher than many other states.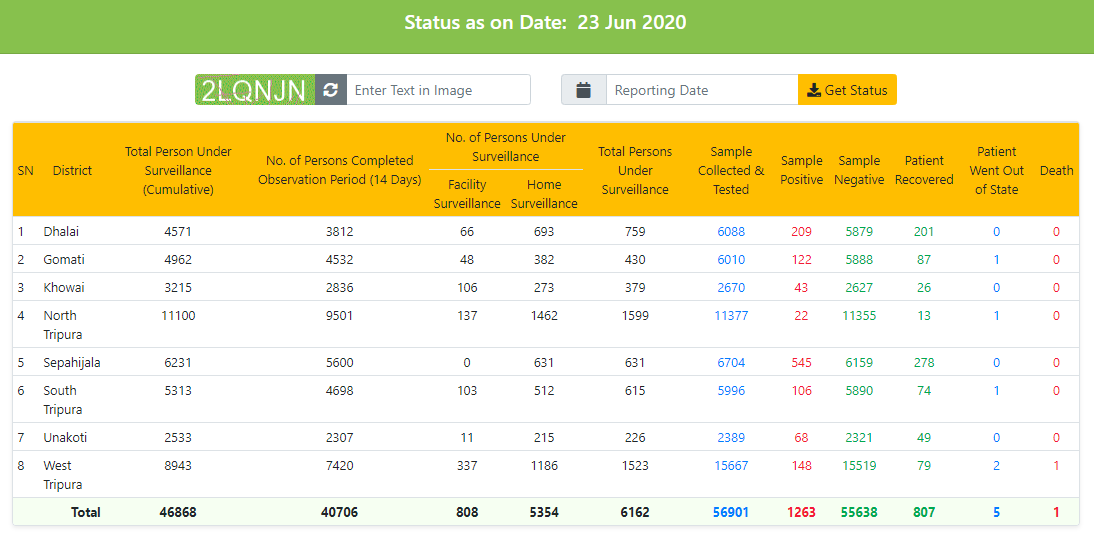 Tripura COVID-19 status till News Publication Time (2 PM)
A West Bengal driver in Tripura has been tested COVID-19 Positive on Tuesday who entered the state before 4 days in Churaibari. The driver like many others came to the state with trade purposes and his sample was collected at the time of his entry and today after 4 days, his report came. He came to Tripura on 19th June via WB65A-4186 number truck.
After his report was tested positive, he was sent to the Kumarghat COVID-19 care centre immediately accompanied by Health Dept staffs. Churaibari PS OC-Jayanta Das along Health employees were present during the process. The 40 years old positive patient was sent off via an ambulance. Higher numbers of tests however reporting in Tripura, resulted many cases could be detected at the early stage.
India's total cases, deaths till News Publication