Tripura News
'White House Burning footage in Indian media & social media are totally Fake' : TIWN Editor
TIWN June 3, 2020
PHOTO : TIWN Editor in an interview in PB 24 channel. TIWN Photo.
AGARTALA, June 3 (TIWN): US base NRI, Tripurainfoway Editor Saumen Sarkar has slammed Indian media for false and fabricated photos publication claiming White House was attacked.
In a statement, the Editor said, "Due to COVID19 lockdown, businesses are closed over 3 months, millions of workers are unemployed., depression & frustration running high. After one police officer's brutal act, an innocent man died, as the police officer was white and victim was black so various civil rights groups started peaceful protests against racial bias. That Police officer was punished already, lost job, court process ongoing for this murder. After 1 day of peaceful protests, surprisingly various criminal & hooligan elements hijacked this peaceful movement, from 2nd day they started attacking stores, attacking police, burning public vehicles, uncontrolled arson continued as Govt didn't want to use force".
"However, a Govt can't close its eyes when hooligans vandalizing public property, so yesterday President Trump ordered strong action in all States, so from today you will see arson, looting stopping across USA. In India media & social platforms, it was shown that White House was burning but it's false, it was St Johns Church in Washington DC which was partially burnt by hooligan mob. Also various Indian media news on President Trump hiding in White House bunker also false, White House was well protected, even though White House has a bunker but Trump operated from his office. Govt's patience of not dealing with force was seen as weakness by arsonists, however now since yesterday, situation changed. Bottom line is, Law & Order must be restored, Hooligan Mob cannot take control of cities in the name of civil rights. "NYC, CALL UP THE NATIONAL GUARD", he said,
"The lowlifes and losers are ripping you apart. Act fast!" that message of Trump prompted into action, so American cities now turning back to normal within 24 hrs. We must condemn racism, must condemn illegal acts but we should never tolerate arson, looting by thugs in the name of protest. New York, Washington DC expected to be normal within 24 hrs", Saumen Sarkar said.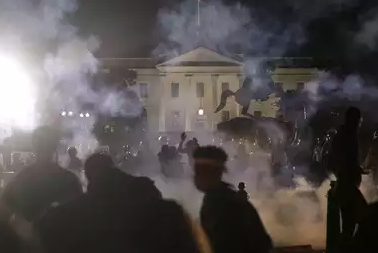 Protest before Church, hyped as White House burning photo