Tripura News
Police turned down CAA Protest rally's permission in Agartala, Protesters arrested : Joint Movement condemns BJP Govt's Dictatorship, asks, 'Have we lost Democracy ?'
TIWN Jan 7, 2020
PHOTO : TSP's protest in front of Rabindra Bhawan, Agartala against CAA. TIWN Pic Jan 7, 2020
AGARTALA / NEW DELHI, Jan 7 (TIWN): In another surprised move, Joint movement's rally's permission was denied by Agartala Police, which was organized to hold protest against unconstitutional Citizenship Amendment Act (CAA). Reacting over Police's undemocratic action, TSP chief Chitta Debbarma asked, whether the political parties specially various community based parties have lost their rights to stage protest in democratic manner ? He asked why always they have to go to High Court to get a permission of the rally ? Joint Movement, comprised of various indigenous membered parties was scheduled to launch a rally from Rabindra Bhawan but no permission was given to stage any protest and from rabindra Bhawan premise all were arrested. Joint movement members, leaders have condemned Govt's intolerance and undemocratic attitude against all whoever is raising voice against Govt.
The Joint Movement also raised question on Union Home Minister Amit Shah's role after promising them to solve their issues whereas nothing has been done.
Chitta Debbarma further warned the Govt that mentally the Tiprasa are preparing to launch protest again for indefinite period of time. During today's protest, amid huge securities, all agitators were arrested.
In Delhi Police attacked students, in Tripura our movement stopped by Police, said a youth leader.
https://www.youtube.com/watch?v=JDwRK3LV9t8&feature=youtu.be&fbclid=IwAR1X6YAb7ligAt19hMPMww6bzQEK49r_Y-_KRSxKNU43xVO-yMhRplHhd9s (Click TIWN YouTube Link to see TSP leader Chitta Debbarma's speech)
After about a month Tripura indigenous cadre based parties, including the junior ally of the ruling Bharatiya Janata Party (BJP), resumed their agitation against the Citizenship Amendment Act (CAA).
Along with IPFT, the Joint Movement Against Citizenship (Amendment) Bill (JMACAB), a conglomeration of many tribal parties, led by the Indigenous Nationalist Party of Tripura (INPT) had called off their agitation against the CAA on December 11 after a meeting with Tripura Chief Minister Biplab Kumar Deb. However, they would be resuming their anti-CAA protest and started a protest before Rabindra Bhawan on Tuesday in Agartala.
The JMACAB convener Anthony Debbarma told the media that after the meeting with the Union Home Minister on December 12, the leaders of the JMACAB met Tripura Chief Minister on December 18 and January 2 to resolve their demands, but nothing appeared yet.
The JMACAB and various other tribal parties, including the tribal front of the CPI-M, the Tripura Rajya Upajati Ganamukti Parishad (TRUGP)-- the state's oldest indigenous based party, have been demanding that the Northeast states be keep out the ambit of the CAA.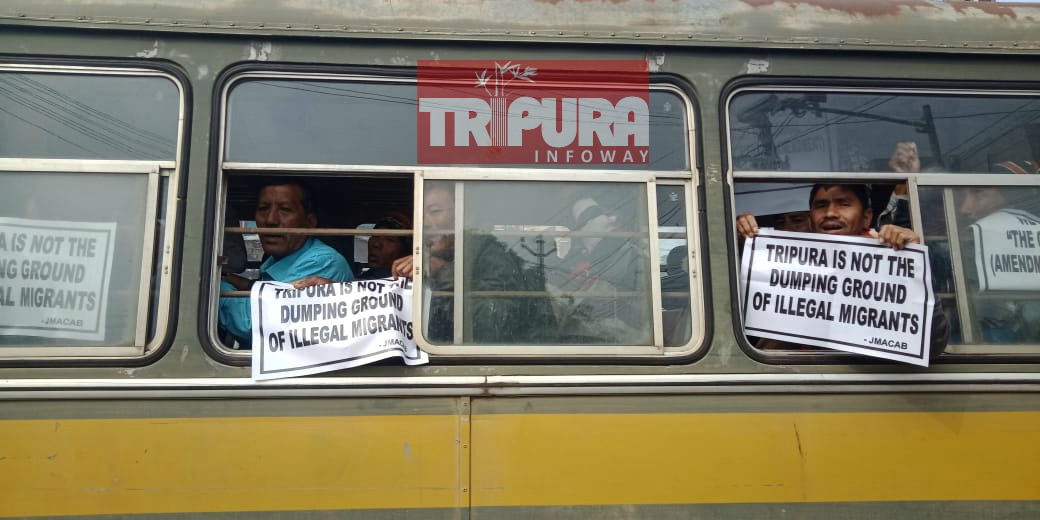 Protesters arrested in Anti-CAA protest