Tripura News
'Neer Mahal' : Pradyot Manikya to challenge High Court verdict about 'ownership' in Supreme Court
TIWN Jan 7, 2020
PHOTO : Pradyot Manikya addressing media at Royal Palace (File Photo)
AGARTALA / NEW DELHI, Jan 7 (TIWN): Royal scion Prdyot Manikya on Monday after High Court verdict on Neer Mahal, announced that he is going to challenge the High Court's order in Supreme Court.
In a verdict on Monday, Tripura High Court declared that Neermahal no more belongs to Royal family of Tripura but to Govt of Tripura which was handedover by the then King Lt. Kirit Bikram Manikya, father of Pradyot Manikya in 1974.
In a social media status, Manikya said, "I challenge the govt to provide one Legal document to suggest that my father 'gifted' Neer Mahal to them , also I am glad that finally the state government has admitted that no money was ever paid for Neer Mahal to my father or my family . I will challenge the matter in Supreme Court but I must ask one question to all if the erstwhile royal family cannot protect their private property then what hope does a poor person have . Crores have been spent on legal cases ,my father is no longer with me and my mother is 75 years old - Justice delayed is Justice denied………..I will not compromise".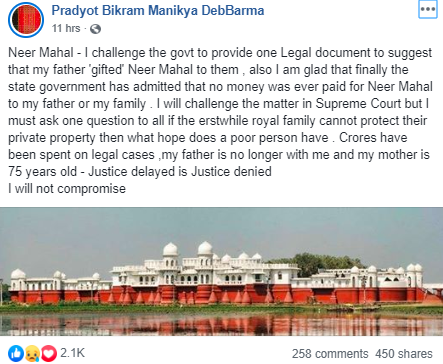 Verdict Jan 6, 2020 : Advocate General Arun Kanti Bhowmik said, Ex-King of Tripura Lt. Kirit Bikram Manikya's personal property at Melaghar's Neermahal made with 6 acre of land including lake and Neermahal, was handed over to Govt of Tripura in 1974 totally.
Then, after Kirit Bikram Manikya passed away, in 2008 later the Queen Bibhu Devi filed a petition challenging the Govt and claimed that the land was never handed over fully. It was demanded that the property was only given as order to use and thus Govt has to return the land and also the profit made from it should also be given back, said Advocate General Arun Kanti Bhowmik.
https://www.youtube.com/watch?v=w7YkLG5NY7I&feature=youtu.be&fbclid=IwAR1J8dO1sYcpCuNc6aWlQg2xbiDc6_18NqC6qW7Z9vEyBHXuhvaSQaGL94w Click TIWN YouTube Link to see Advocate General's statement
Then in 2015 Queen Bibhu Devi won her claim in lower court and then Govt of Tripura challenging the Court order, filed petition in High Court. Today in division bench verdict, High Court said that this land totally belongs to Govt of Tripura and thus Govt can use it for the development of people.
Neermahal is a former royal palace built by Maharaja of Tripura Kingdom Bir Bikram Kishore Manikya Debbarma of the erstwhile Kingdom of Tripura, India in the middle of the lake Twijilikma in 1930 and was completed by 1938. It is situated in Melaghar, 53 kilometers away from Agartala, the capital of Tripura.
The palace is the largest of its kind in India and the only one in Eastern India. It is so huge, it cannot be fit into a single picture frame on the standard camera until you are at a distance of approximately 800 metres from the entrance. There are only two water palaces in India, the other one being the Jal Mahal in Rajasthan. However, the latter is significantly smaller in size than Neermahal.