Tripura News
Crucial hearing in Supreme Court tomorrow on Citizenship Amendment Bill : SC to hear pleas of Cong, CPI-M, Tripura Royal family, others challenging CAA : Protests staged in Agartala against CAB
TIWN Dec 17, 2019
PHOTO : Top(CAB/CAA protests in Tripura), Bottom : GMP President Jitendra Choudhury (1), Supreme Court of India (2), Royal scion Pradyot Manikya (3)
AGARTALA, Dec 17 (TIWN): The Supreme Court will hear on December 18 a batch of pleas, including those by CPI-M's indigenous wing GMP leader Ex-MP Jitendra Choudhury Congress leader Jairam Ramesh and royal scion of Tripura Pradyot Kishore Deb Barman, challenging the constitutional validity of the Citizenship Amendment Act (CAA). Addressing media, Jitendra Choudhury thanked Supreme Court of India for looking in the matter with seriousness. The case number of GMP-45693/19. A Bench of Chief Justice SA Bobde and Justices BR Gavai and Surya Kant said the pleas will be heard along with other pending matters coming up for hearing on Wednesday. Tripura Rajya Upajati Ganamukti Parishad (TRUGP), state's oldest indigenous based party and frontal organisation of Communist Party of India-Marxist and All India Chakma Social Forum (AICSF) on Monday announced to file petition before the Supreme Court against the contentious Citizenship (Amendment) Act (CAA), 2019.
"After the Partition in 1947 and the subsequent developments, influx of crores of people during the past several decades had already flooded the eastern part of the country, causing multiple problems in the social, cultural, political and economic life of eastern India," Chaudhury said.
https://www.youtube.com/watch?v=ono6NE9lL8k&feature=youtu.be&fbclid=IwAR157YG9Mt2-JrZ4l5l8bKnj9w9GgvpPtD2cOkiMkWRAAuE0lAGQYLG_roY (Click TIWN YouTube Link to listen GMP President, ex-MP Jitendra Choudhury's statement)
Senior advocate Abhishek Manu Singhvi mentioned for urgent listing of the two pleas and said they should also be heard along with a similar plea filed by the Indian Union Muslim League (IUML) that is coming up for hearing on Wednesday. "I have filed two pleas one by Indian National Congress and the other by ex-Maharaja of Tripura challenging the validity of Citizenship Amendment Act. All I want is that they should come up for hearing along with a similar petition filed by IUML on December 18," Singhvi said.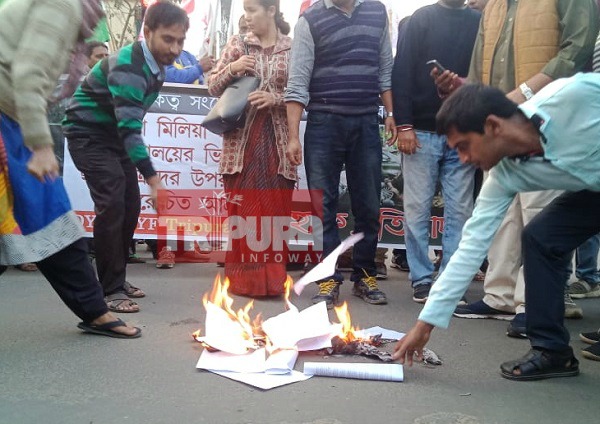 Photo : Today in Agartala Leftist youth wings staged protest against CAA
Several petitions, including by Trinamool Congress MP Mahua Moitra have been filed in the Supreme Court challenging the constitutional validity of the Citizenship (Amendment) Act 2019.
All India Majlis-e-Ittehadul Muslimeen (AIMIM) leader Asaduddin Owaisi has also filed a petition challenging the validity of the Act. He has sought direction declaring provisions of the Citizenship (Amendment) Act, 2019 as "unconstitutional, null and void and ultra vires Articles 14, 21 and 25 of the Constitution of India and hence void ab initio".
All India Chakma Social Forum (AICSF) in a press release said that Chakmas will also challenge constitutional validity of the CAA, 2019 in the Supreme Court.
"The exemptions in CAA given to some northeastern states are unconstitutional as the Supreme Court in the case of the National Human Rights Commission versus State of Arunachal Pradesh, on the Chakmas of Arunachal Pradesh had held that Inner Line Regulation does not apply for submitting citizenship applications," said Suhas Chakma, Advisor to the AICSF.
The AICSF said that there is no provision in the Constitution of India to exempt certain states from the Citizenship Act and India''s laws did not apply only to erstwhile Jammu and Kashmir as it had separate constitutional provision under Article 35A and Article 370 of the Constitution, which have since been repealed on August 5, 2019.
Suhas Chakma also asked, "Why exemption has only be given to Indigenous Autonomous District Council areas under the 6th schedule of the Constitution, why the same cannot be extended to 5th schedule areas? In fact, if despite entire Manipur not being indigenous areas can be declared as Inner Line Area, Assam and Tripura too can be fully covered."
"The Citizenship Amendment Act was a violation of the Instrument of Accession signed by the regent Maharani Kanchan Prabha Devi and the Indian Governor General," Deb Barman claimed.
At the end of the 1,355-year-rule by 184 kings, on October 15, 1949, the erstwhile princely state of Tripura came under the control of the Indian government after a merger agreement was signed between regent Maharani and then Governor General.