Tripura News
Woman beaten in broad-day light by in Tripura, hospitalized
TIWN Dec 18, 2019
PHOTO : Condition of her house after the incident.
UDAIPUR ,DEC 18(TIWN): Udaipur is becoming the epicenter of crimes against women in Tripura .The recent brutal torture on a housewife by her husband and in-laws was not even faded , again another torture on woman has been committed.
On Friday ,in Dhwajanagar area area under RKPur PS ,a woman got brutally tortured under daylight Infront of everyone.But strangely no one came to rescue her .Her clothes were been snatched by those goons ,she was been beaten brutally. And when her child came to rescue her after hearing his mother's screams ,he also were been thrown , beaten blue and black.
Reportedly ,there was a wrangle between the lady and some locals regarding her property.The case was been submitted in the court and it is now under process .But without even waiting for the court to give any decision ,they were constantly forcing her to leave her place .And lastly the tortured her brutally like women used to get tortured in medieval period.
Now she and her son is admitted in the district hospital.A case against the goons were filed under IPC , section 44& ,325, 447 and 34. Yet no one is been arrested by the RKPur police ,so far .It came to know from the locals that the goons are the activists of present ruling government of the state.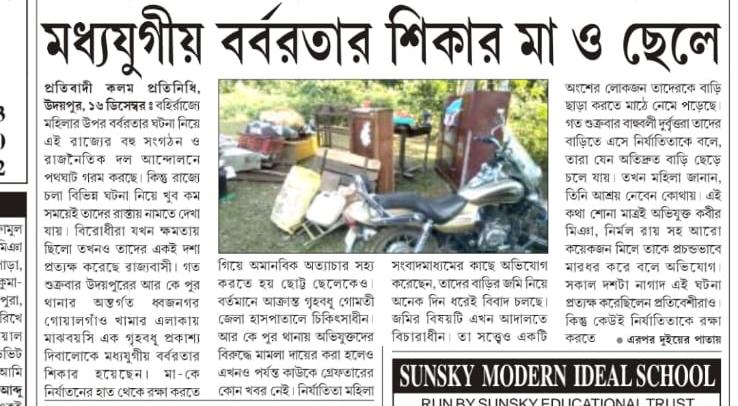 News published in local newspaper