Tripura News
12 poverty related deaths in Tripura in less than 2 months, now Controversial CAB fully paralyzed Tripura : 4-days-violence, tension, strikes rattle poverty gripped Tripura further : No final solution yet
TIWN Dec 12, 2019
PHOTO : Strike rattles normal lives in Agartala city. TIWN Pic Dec 12, 2019
AGARTALA, Dec 12 (TIWN): Tripura in last two decades hasn't undergone such economic situations, poverty, starvation which recently led 6 starvation, poverty related deaths. When economic distresses tuned lives miserable, unnecessary sudden introduction of controversial Citizenship Amendment Bill (CAB) has done the ultimate damage. Tripura name is nationally pronounced today due to its violence and emergency situations, trains, flights services are halted. The indefinite strike called by regional parties against CAB was called off after a meeting with Union Home Minister Amit Shah was assured but so far no permanent solution came out and the whether again there will strike, whether CAB related uncertainty among the indigenous people will be ended nothing can be said. Such situations were expected as regional parties not only cleared their stands against CAB but various protests took place against CAB for a long time.
What happened due to CAB has only caused more distresses in the poverty gripped state further.
A known Tripura, suddenly turned so unknown, so predictable, so intolerant caused massive violence related property losses, damages to the common men but those voices are unheard.
Dhalai, Kanchanpur, Bisramganj severe losses caused in damages and not only common men were attacked but few agitators have been reported injured and one's face was burnt in acid. How the Government to be helping them, it is under question mark.
CAB although has distracted certain minds from the economic situation but TIWN has continued its communication with the working classes and how the people of the capital city Agartala are undergoing.
After 3 days strike, today it was Congress's strike which was called in protest against police's brutality displayed on yesterday evening during an Anti-CAB protest.
Talking to a rickshaw driver in Agartala, he said, "I came in the City at around 12 noon and roaming across but could not manage yet 200 rupees. First I have to give Rs. 200 to the rickshaw owner and then I have to earn for me, but due to four days strike, we are devastated. How to gather the necessary amount which has to give to the owner and how to take moneys for my income? Sometimes, we can't take money also at home and go in empty hands".
https://www.youtube.com/watch?v=HH0O2TJXDxI&feature=youtu.be&fbclid=IwAR3nIswtH1ovbpQy0ehLTz7OFo9DwxsmvxmYTqkovIKBmYPQsQroL_EreNY (TIWN YouTube Link)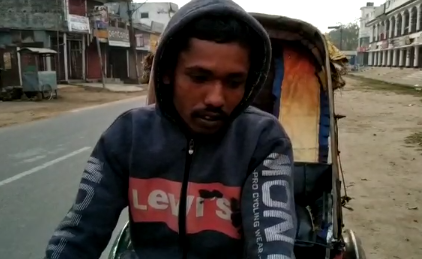 "I have Bandhan to many issues. In very hard times I am. I think other rickshaw drivers' conditions are too same", said the rickshaw driver.
Another rickshaw driver talked in general and said the Government has failed to keep any promise which it did.
He raised question, why the number of Govt given works like MGNREGA has downed so much ?
https://www.youtube.com/watch?v=aBiimTDEoyE&feature=youtu.be&fbclid=IwAR1mJ5EGa3Qy-I3iO53K7Xyt_qg2whFC1jAOy8COkltiTVlij8sem9vlfFU (TIWN YouTube Link)
"How will we live ? How to exist ? In starvation we have to die if Govt doesn't look at us. The way commodity prices are hiking…..vegetable prices are too high……..MGNREGA and other works have been stopped almost!", he said.