Tripura News
Attacks on Party activists, Journalists by Police in Tripura : Congress sponsored 'Tripura Bandh' gets 100% success amid picketing 'restricted' : Motor-stands, markets, roads left empty, normal lives affected
TIWN Dec 12, 2019
PHOTO : Shutdown paralyzed capital city Agartala. TIWN Pics Dec 12, 2019
AGARTALA, Dec 12 (TIWN): The 24 hours strike called by Congress Party in Tripura got major response from public amid picketing was almost restricted and police personnel seen covered the State Congress's headquarter to stop activists from picketing and protest. The protest rally was also stopped by police, whereas many Youth Congress activists arrested. The strike was called after police led lathi-charge and injuries to Congress activists and journalists on yesterday evening which left 3 persons hospitalized  when a rally was conducted by the party in Agartala against controversial Citizenship Amendment Bill (CAB) introduced by the BJP led Central Govt. Amid all these, Congress's strike turns 100% success today due to massive public response. From BMS to other saffron organizations attempted to operate vehicles but passengers were nil in the bus stands and TIWN correspondents from Agartala's motorstands informed since morning about nil-passenger situations in all motorstands. 
The footage came from Agartala displayed no shop is opened and without picketing that level of successful strike also helps to realize the level of tension erupted in Tripura in last 3 days and fears among the public which are still existing due to deteriorated law and order situations in anti-CAB protests rows and related violence occurred due to that.
Congress activists today expressed extreme disgusts for restricting picketing, challenging they will continuing picketing. Many youth Congress activists were arrested in the early morning but gatherings were seen increasing after arrests also.
In the capital city from across state, the party workers joined to lead a successful protest.
After continuous 3 days long strike by regional parties against Citizenship Amendment Bill (CAB) which was called off yesterday evening, Tripura Youth Congress had called 24 hours strike which has turned the state immovable on Day-4.
Shops, business centers, institutions remained shuttered-down in response to the strike.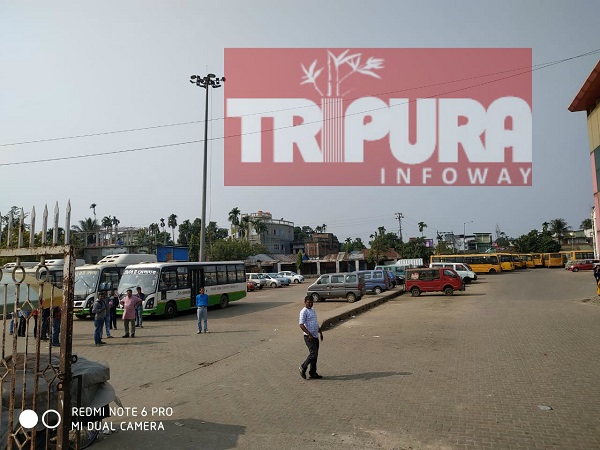 Photo : Bus services left paralyzed due to no passenger in Agartala
Vehicle movements are too halted, whereas public were seen using motor bikes maximum for personal uses.
https://www.youtube.com/watch?v=jyMgFQjmpMY&feature=youtu.be&fbclid=IwAR2NQkcO1C9xR4u8DzkLwkpycOFbVooSbX_s-gB3YCvti-qWiSxjhVAqShA Click TIWN YouTube Link to see Agartala city on Strike Day
Huge numbers of securities have been deployed to hold the peace in the State and across Congress Bhawan (main headquarter), security blankets are covered.
https://www.youtube.com/watch?v=8KMCWY6b8r4&feature=youtu.be&fbclid=IwAR1trXZE2rFsFhTuxfsev5WTOxAM3KX9TDHqmxYnlZmD4Dj080EUUD1V90M Click TIWN YouTube Link to see situations before Congress State HQ (Agartala, Post Office Chowmuhani)
The strike was reportedly necessitated in protest against police brutality displayed on Wednesday evening when sudden lathi-charge injured 3 persons seriously during Congress led 'Anti-CAB movement' at the Post Office Chowmuhani.
To hold the peace for the sake of law and order, tight security blanket has been covered across the State as Congress party has called for 24 hours strike in protest against Police brutality which led an attack on Congress activists on yesterday evening while Anti-CAB movement was conducted.