Tripura News
Brutal Attacks on Congress activists, Journalists, women by TRS, Police during Anti-CAB Protest, 3 seriously injured : Congress calls for Strike tomorrow, burns Modi's effigy
TIWN Dec 11, 2019
PHOTO : After the incident Prime Minister Narendra Modi's effigy was burnt raising slogan of "anti-Constitutional", "anti-Indian" CAB.
AGARTALA, Dec 11 (TIWN): Congress activists in Tripura were brutally attacked by police today along with Tripura State Rifles (TSR) during a protest which was conducted against Citizenship Amendment Bill (CAB). Along with whole nation, Congress in Northeast Tripura also conducted a protest rally against CAB but before the rally could march, huge numbers of forces were deployed to stop the rally which created a chaos and all of a sudden, Police, TSR led barbaric attack, lathi charge injured many. This attack did not spare journalists, photographers and women activists of the party. The police forced entered the Congress Bhawan and attacked Congress activists and used severe slang words against the leaders, workers. Journalists gheraoed Police officers who were present on the present to sought reason why did police attacked on the camera men. It has been alleged that targeting people with cameras in hands, police held the attack. Congress has called total strike tomorrow, challenging no office and Govt institution will be allowed to open tomorrow.
After the incident Prime Minister Narendra Modi's effigy was burnt raising slogan of "anti-Constitutional", "anti-Indian" CAB.
"We are protesting against the Citizenship (Amendment) Bill which has been introduced in the Parliament. This controversial bill will create a divide in the country. The BJP is hell bent on dividing the country on the basis of language, caste and religion. BJP is trying to ruin the country and its grandeur which was earned by the freedom fighters by sacrificing their lives,", said a Congress leader.
https://www.youtube.com/watch?v=okrg-M2OtgU&feature=youtu.be&fbclid=IwAR114U4c1IHusJrjpnzpMEi0BVIPg1FYcZnBeMloetG_JlKz7EgDw4FEKMw (TIWN YouTube Link, Congress youth activist injured)
Congress leaders injured including Pijush Kanti Biswas and 3 left serious.
https://www.youtube.com/watch?v=dD6F0VBa6V8&feature=youtu.be&fbclid=IwAR3SQURoHViY-VDyiAw2AWiwJjRspJkma5sJT36Mc5yRVCCBxuqemkWFyqc (TIWN YouTube Link, Congress Protest)
Already tensions have been escalated in Tripura as since last 3 days regional parties are in strike demanding cancellation of CAB's implementation in Tripura. However, in an evening meeting regional parties and CM Biplab Deb, Deputy CM Jishnu Debbarman sat for dialogue exchange.
Across India today, Congress workers on Wednesday protested against the bill by burning the effigy of Prime Minister Narendra Modi and shouted slogans against the BJP-led Central government.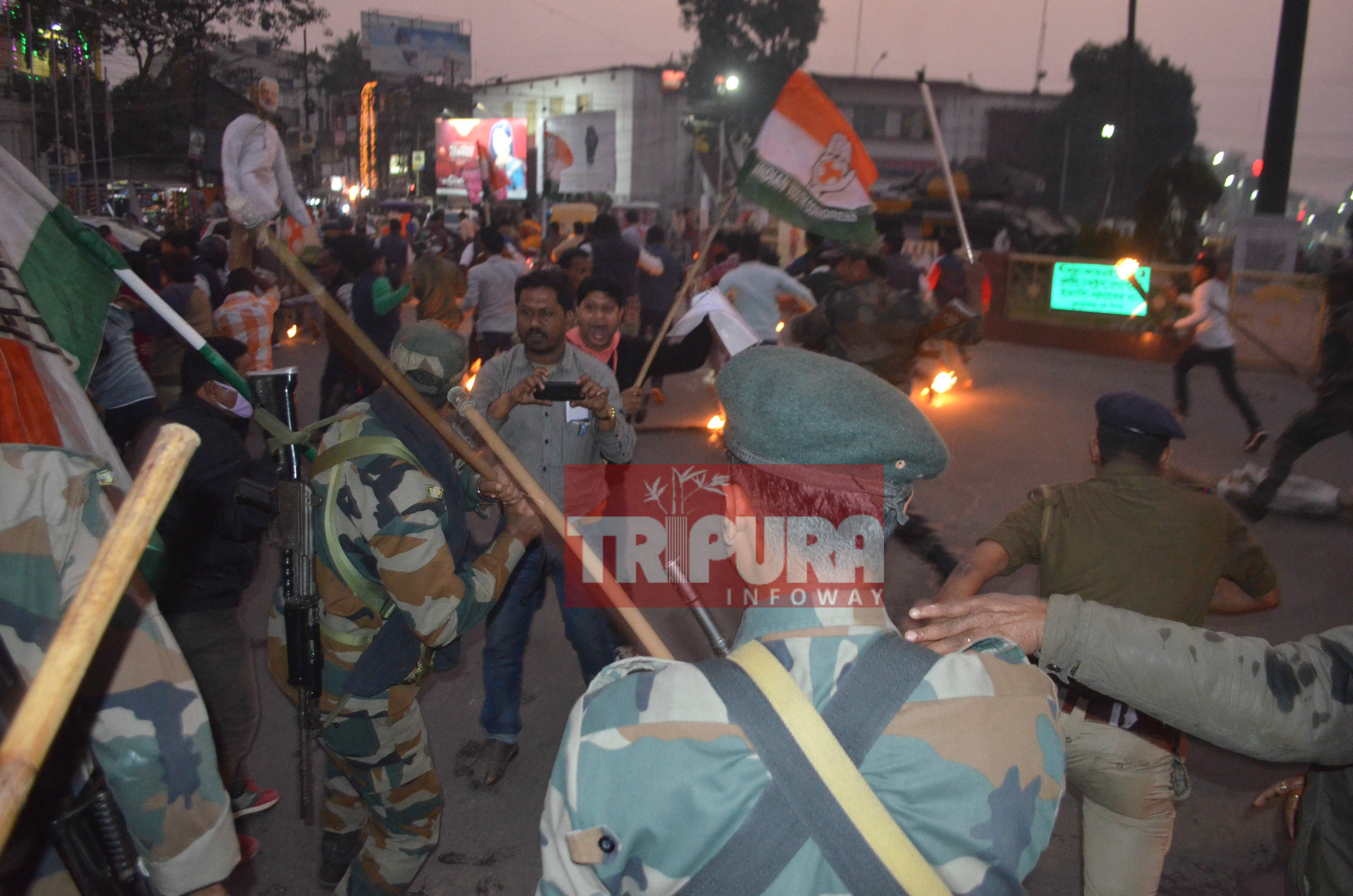 Attack on a journalist by forces while covering CAB protest at Post Office Chowmuhani. TIWN Pic Dec 11, 2019