Tripura News
Anti-CAB Protest Continues in Tripura on Day-3 : Strike, Protest hit Capital City Agartala, Over 300 picketers arrested
TIWN Dec 11, 2019
PHOTO : Protest, blockade before Astabal stadium, Over 300 picketers arrested. TIWN Pics Dec 11, 2019
AGARTALA, Dec 11 (TIWN): 'Controversial' Citizenship Amendment Bill (CAB) introduced by BJP Govt in the Parliament continues to instigate massive protest across the State Tripura. Regional parties led "Joint Movement" committee blocked road today in Agartala and many other places across Tripura, whereas in Agartala over 300 picketers were arrested by police. Leaders of the "Joint Movement" said that protest will not be stopped if CAB continues to run over the Tripuris sentiments. The regional party leaders have sought a dialogue with the Govt so that they can exchange their views again in proper way. Talking to Police, they informed today so far no peace disruption observed, although glass of a police vehicle was damaged while agitating before Astabal stadium. So far securities were properly deployed and internet suspension for 48 hours continue which might be resumed tomorrow 2 pm if law and order is stable.Congress has demanded Tripura Chief Minister Biplab Deb who is also holding the Home Ministry immediately to resign from his post as he totally failed to control law and order of the state.
https://www.youtube.com/watch?v=D52YW9opWmI&feature=youtu.be (TIWN YouTube Link, Strike Day-3)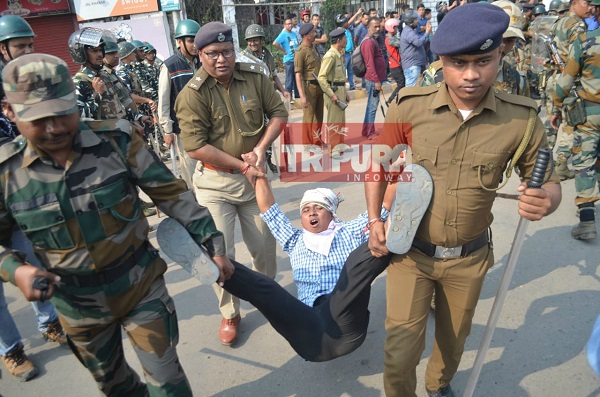 Over 300 picketers arrested during anti-CAB protest in Agartala (Tripura)
Various violence took place in last 2 days where BJP's own ally IPFT's involvement was too alleged. Regional party leaders have asked all their workers, not to harm common men as this is not the main purpose of the protest. Common men are distressed as this is not first time that BJP led Tripura Govt has shutdown mobile internet services, but same happened earlier too centering lynching, Madhav Bari violence (in CAB protest) and few more times.
The strike started on December 9 along with whole Northeast strike and on Day-1, around 15 teachers injured whereas on yesterday massive property burning were reported along with vandalizing. Few alleged, ruling BJP attempted to stop the movement.
News reports throughout national media have claimed that a 2 years old baby died after the ambulance stuck in jam dur to strike. It has triggered nationwide talks on Tripura's situation.
The child who died was just two-months-old, news agency Press Trust of India (PTI) reported.
"Govt of India has just insulted the voice of Tripura because even after meetings and so many requests, ultimately CAB was decided to be impose in Tripura against will of the major section of indigenous people", said a protesting leader.
Before CAB regional parties leaders, Tripura Prince Pradyot Manikya held meeting with Union Home Minister Amit Shah and clearly stated "not to impose" CAB in Tripura, but as CAB is imposed, it escalated statewide agitation.
The "Joint Movement" sought dialogue exchange with the Government where all regional parties to remain present.