Tripura News
'Protest will not stop unless we are called by Govt to Exchange dialogues' : Joint Movement
TIWN Dec 11, 2019
PHOTO : Joint Movement led protest in Agartala today. TIWN Pic Dec 11, 2019
AGARTALA, Dec 11 (TIWN): Anti-CAB agitators who are observing Strike since last 3 days have announced to continue stir till Govt of India withdraws the controversial Citizenship Amendment Bill (CAB) or calls all the regional party leaders under Joint movement to exchange dialogues. Today a massive protest was staged before the Astabal stadium, blocking road and police have arrested around 300 picketers from the place. No violence was conducted by stone pelting in a vehicle by one of the agitators has broken a police vehicle's glass. The "Joint Movement" sought dialogue exchange with the Government where all regional parties to remain present.Regional parties led "Joint Movement" committee blocked road today in Agartala and many other places across Tripura, whereas in Agartala over 300 picketers were arrested by police.
https://www.youtube.com/watch?v=zSQRzdQFV8M&feature=youtu.be&fbclid=IwAR11Sz7xt9p6qnd3Bh1FjmbNp5-1NTWf3b90VIsFRquSIySQz2XJXETfYak Click TIWN YouTube Link to see anti-CAB stir today in Agartala
Leaders of the "Joint Movement" said that protest will not be stopped if CAB continues to run over the Tripuris sentiments. The regional party leaders have sought a dialogue with the Govt so that they can exchange their views again in proper way.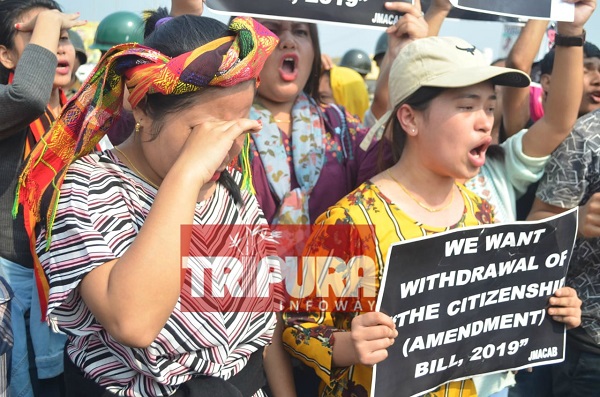 https://www.youtube.com/watch?v=7fw2VSz-VlY&feature=youtu.be Click TIWN YouTube Link to see an agitator displaying banner against CAB and its futuristic affects in Tripura
Talking to Police, they informed today so far no peace disruption observed, although glass of a police vehicle was damaged while agitating before Astabal stadium. So far securities were properly deployed and internet suspension for 48 hours continue which might be resumed tomorrow 2 pm if law and order is stable.