Tripura News
Violence rattles Tripura on second day of Northeast Anti-CAB Strike : Internet suspension ordered, Tiprasa Parties announced to continue Protest tomorrow
TIWN Dec 10, 2019
PHOTO : Violence hit across Tripura on Anti-CAB Bill. TIWN Photos Dec 12, 2019
AGARTALA, Dec 10 (TIWN): Across Tripura violence has hit the law and order situations today, whereas internet has been ordered to be suspended for next 48 hours. Violence was instigated after in few places certain outsiders attempted to enter, although the clear reasons behind such untoward incidents have not come out. Tripura Police have reportedly done an excellent job in maintaining law and order and regional parties too have appreciated police's tasks. A "Joint Movement" committee today along with Northeast Strike is conducting strike in Tripura too but after violence was instigated INPT Supremo Bijoy Hrangkhawl via media has asked all parties leaders to control workers and strictly prohibited any type of violence which can destroy community's and parties' names too. Joint Committee have announced to continue their movements tomorrow also.
https://www.youtube.com/watch?v=1H6wtQRPigc&feature=youtu.be&fbclid=IwAR0_jCGp6uAiCgZl1zq4FKYDFw8IFneoHrVC9KlosGHLjNCUiV4cO4AeeZE Click TIWN YouTube Link to see "Joint Movement" statement after Day-2 Northeast Strike in Tripura
Although Chief Minister Biplab Deb told media that strike did not affect Tripura but internet suspension was reported in state.
https://www.youtube.com/watch?v=Y0BUCurx7C8&feature=youtu.be&fbclid=IwAR3ub1-oVvTMdHeODhKEcFvb-AndVXVqs1GvvNbQ26Fuc3ZLAD8q7mv0rbQ Click TIWN YouTube Link to see Tripura CM's reaction over Strike
Reacting over the law and order problems across Tripura, Congress Party has demanded Chief Minister Biplab Deb's immediate resignation from his post, who is also holding the Home Ministry.
Addressing media, Congress leader Pijush Biswas said that by suspending internet, the BJP Govt has further proven that the law and order is not stable and this Govt totally failed to control the situation today.
In a violent display of intolerance, regional parties' workers who were observing Strike in Tripura against Citizenship Amendment Bill (CAB) have attacked in an ambulance in Bisramganj which was carrying patients from Udiapur District hospital.The driver was severely injured whereas while attempted to save the drivers and patient party, at least 2 TSR Jawans were minorly injured too.Section 144 have been imposed in various sensitive areas. Kanchanpur, Dhalai also reported have undergone violence, property damage was informed.
During No-CAB Strike across Tripura jointly led by various regional parties, violence and tension erupted after a clash like situation allegedly emerged in Manu Bazar (Dhalai). Bikes, shops were found burnt, massive numbers of properties either burnt or vandalized, although till now the post-violence footage have been received by TIWN. How such a situation erupted suddenly in defence it was said that BJP supporters allegedly attempted to stop the agitation which led the total violence. The defence statement remained unverified yet. But TIWN has received a beaten NESO agitator's photo who was bleeding.
Today morning 300 picketers were arrested in Agartala after they blocked road at there.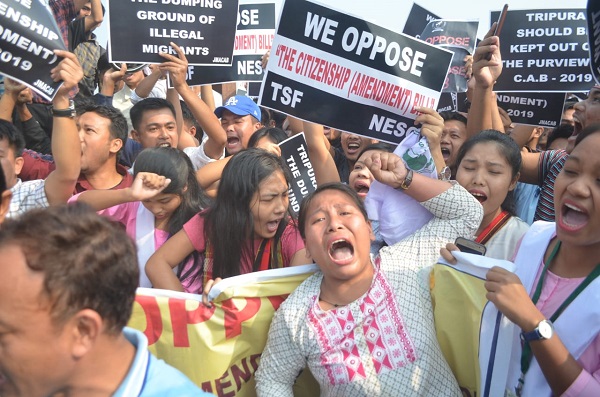 Joint Movement led massive protest in Agartala against Citizenship Amendment Bill
While agitating at Agartala today, Leaders of the agitator group said that they will be continuing their protests against CAB at any cost and will not stop till the Government of India (GOI) doesn't drop the bill. Today while agitating, leader of the regional party said the Govt of India did not pay any respect to the voice of the indigenous people in Tripura and instead of listening to them, it decided to discriminate the Northeast by keeping their sentiments and voices unheard."We will continue till Govt of India hears our voice!", said an agitator.They said over thousands of agitators are displaying protest across Tripura whereas Police said 300 agitators were arrested today from Agartala who started road-blockade in the capital city, paralyzing vehicle movement.
https://www.youtube.com/watch?v=fDhy_sfpKZ0&feature=youtu.be&fbclid=IwAR0PpXSS0IMaJ_5lSrDaka4hx86wHga-v6tYIQECsg56BQrsO9mGPUO-jOY Click TIWN YouTube Link to see anti-CAB protest in Agartala today
NESO and other regional parties led the "Joint Movement" committee has announced they will not stop their agitating till the Government withdraw the CAB.
https://www.youtube.com/watch?v=kQKBs24OosE&feature=youtu.be&fbclid=IwAR1USQDAevdTiJzLxT2iPx9Oe3npTTyxe79BmlBGFlilMB_SlN9kEjAvuzc Click TIWN YouTube Link to see anti-CAB protest in Agartala today
Over 15 people were injured today during strike called by all regional parties, whereas Tripura Govt ordered all employees to attend the offices.
https://www.youtube.com/watch?v=77X-bedNgd8&feature=youtu.be&fbclid=IwAR3D7rAUeTCSghmvk4KCxUy0fLfzQZNVjoQbIXICE-_XXB1x6tbx-us6INs Click TIWN YouTube Link to see a man calling Tripura CM Bangladeshi after arrested by police
(1)CAB is discriminatory on its basis as it has targeted to give citizenship on religion base identity which is totally against Indian constitution and freedom fight movement.
(2) Secondly, before the Lok Sabha Election, Union Home Minister Amit Shah said that no CAB will be implemented in Northeast India and as a result a massive support from the regional parties came to the BJP. After the election, a total discrimination was shown to the Northeast too by not listening to the political, regional parties here.
https://www.youtube.com/watch?v=Wn0rFdGC_WE&feature=youtu.be&fbclid=IwAR3TQcSMXV-jE6pnvx-7CpC-9Iz9VMmKzOGYltQ_PSTL4JqvgYtjATRQK2s Click TIWN YouTube Link to see statement by regional party leader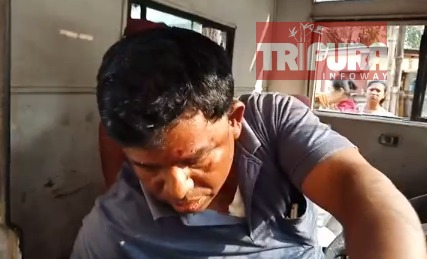 A man injured who was driving ambulance with patient from Udiapur District hospital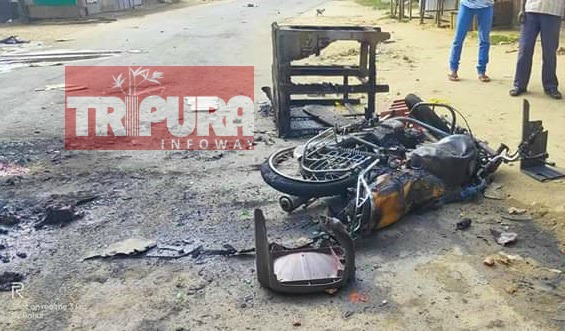 Violence at Manu Bazar, Dhalai