Tripura News
TIWN Exclusive : Police FIRs, Court Documents reveal Pratima Bhowmik, brother Bishwajit murdered Chabi Debnath in front of 2 months old baby : Pratima killed sister-in-law Chabi Debnath by chocking, strangulating on bed on April 17,2014
TIWN April 8, 2019
PHOTO : Murderer Pratima Bhowmik with brother Bishwajit. Police FIR court copy. TIWN Exclusive.
AGARTALA, April 8 (TIWN Exclusive): BJP General Secretary Pratima Bhowmik, her smuggler brother Bishwajit's brutal murder of Bishwajit's wife Chabi Debnath on 17th April, 2014 exposed in Police FIR & Court Documents which shows Chabi Debnath was murdered in front of her 2 months old baby son brutally. Bishwajit & Pratima both had multiple illicit relations with other people, then Narcotics smuggling details which are root cause behind the murder. Pratima, Biswajit, Bishwajit's elder brother's wife Subra Bhowmik strangulated Chabi Debnath to death and Police told the court about illicit relations among these two brother-in-law and sister-in-law. In Chabi Debnath's personal diary recorded in her Samsung mobile, the deceased late Chabi Debnath had scripted her daily sufferings, tortures by her in-law's family members along with illicit relation with sister-in-law (Biswajit, Pratima's brother Ajit Debnath's wife Subra Bhowmik).Police imposed against these three criminals under the charges are : US/498(A)/306/506/34/IPC with the Case No- 19/14 US/498(A)/302/34/IPC.
Late Chabi Debnath's father Sunil Debnath filed FIR at night 11.30pm on 17th April,2014 at Police Station.
Police FIR filed in Court against murderer Pratima Bhowmik, Biswajit Bhowmik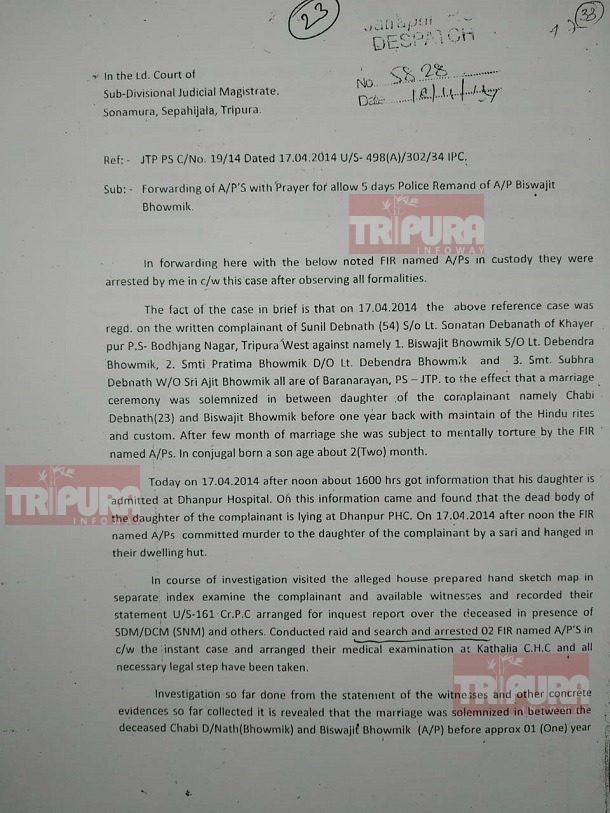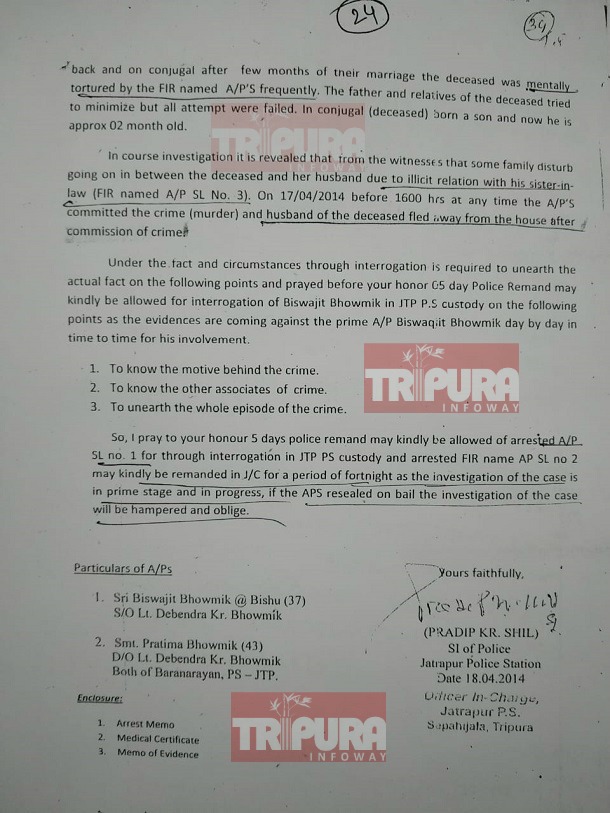 Pratima Bhowmik and her brother Biswajit killed Biswajit's wife Chabi Debnath in cold blood by chowcing her with a pillow then strangulating her, finally hanging her to ceiling of Dhanpur home.
Pratima, Biswajit was in jail for 3 months but Pratima's Smuggling Empire's money was used to pay y to Lawyers, Lower Court Judges, Police Officials so she got out in bail.
TIWN is in the process to reopen this case in High Court to bring justice to late Chabi Debnath's family.