Column
TIWN's landmark legal victory against BJP Govt's Illegal attacks to shutdown fearless Media
Saumen Sarkar
PHOTO : National news coverage on attacks on media, TIWN Editor at Dainik Stateman, Kolkata, then National Herald, New Delhi
In a landmark judgement, West Tripura Sessions Court on July 26,2019 ordered ( Case No Criminal Revision 13,2019) unblocking of tripurainfoway.com, also revoked earlier order of Lower Court for blocking tripurainfoway.com. As per Legal experts, Lower Court's April 27,2019 order is found to be legally full of errors and illegal as per IT Act 2000, 69A. Since 2018, Tripura BJP Govt started filing various FAKE cases against TIWN Editor Saumen Sarkar for exposing criminals from Pratima Bhowmik to Ram Prasad Pal, Krishnadhan Das but TIWN Editor scored 4th major legal victory in 2019 against illegal actions by Tripura Police and crooked elements in Government with the sole political aim to shutdown opposition media voices. On behalf of TIWN Editor Saumen Sarkar, Advocates Mr Arindam Bhattacharjee, Advocate Biplab Mandal contested against State Govt legal team led by Special PP Ratan Datta in West Tripura Sessions Court.
Addl Sessions Judge Mr Ravi Dahiya wrote in order that Lower Court Justice passed earlier order in mechanical manner.
Lower Court, Judicial Magistrate Court 5 Justice Ms Mitra Das's earlier 27th April,2019 order of blocking tripurainfoway.com stands cancelled as higher court Addl Session Court Judge Mr Ravi Dahiya ordered unblocking of tripurainfoway.com on 26th July,2019
Lower Court's case was filed by Crime Queen Pratima Bhowmik's right hand Smuggler Sunit Sarkar alongwith corrupt police officials led by former OC West PS Subrata Chakraborty with various fabricated baseless charges.
As per Sessions Court's order, Govt authorities must comply order and necessitate steps to unblock tripurainfoway.com without any delay. Also as per court order, TIWN removed the news content which is alleged to be defamatory by the filing parties.
Order Page 1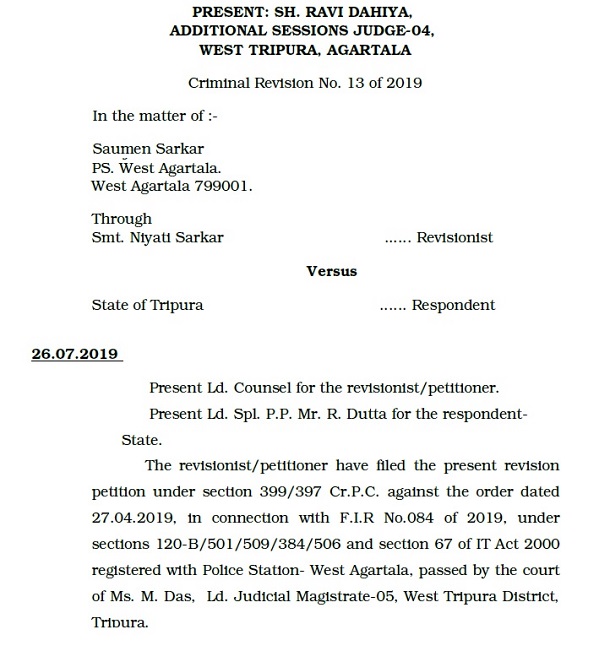 Order Page 6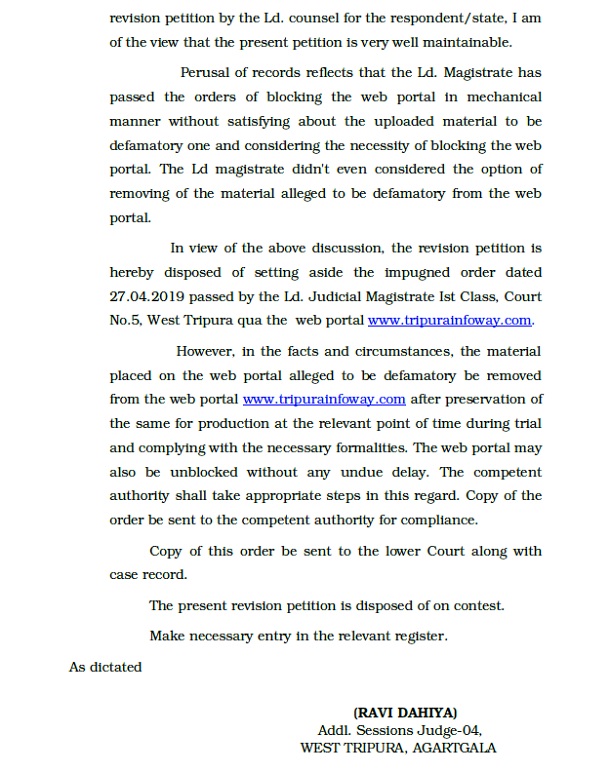 TIWN Editor Saumen Sarkar in a Press Statement thanked Honorable Judiciary for upholding Justice, rule of Law, thanked Lawyers Mr Arindam Bhattacharjee, Advocate Biplab Mandal for tripurainfoway.com's official unblocking after it was blocked with the sole aim to shut the voice of opposition media in Tripura.
comments powered by Disqus