Tripura News
26 Nursing Jobs have been reportedly given in Tripura Govt Hospital without Interview : Massive Resentment Erupted
TIWN March 22, 2021
PHOTO : ANM Passed out Job Aspirants sought Recruitment. TIWN Pic March 17, 2021
AGARTALA, March 22 (TIWN): Amid protests going on against slow-recruitment, Tripura Govt through outsourcing reportedly has recruited 26 nurses in Govt hospital but without any interview, which has erupted resentment. A leading Bengali newspaper 'Pratibadi Kalam' has published the report.
The report also mentioned that the unemployed youths will go to the High Court against such illegal steps of the state govt.
Earlier also in the Sports Association, similar allegations came.
The nurses were recruited in the name of outsourcing but no interview was called. When over 700 posts are easily vacant for regular posts, instead of calling proper interviews, such injustices are going on.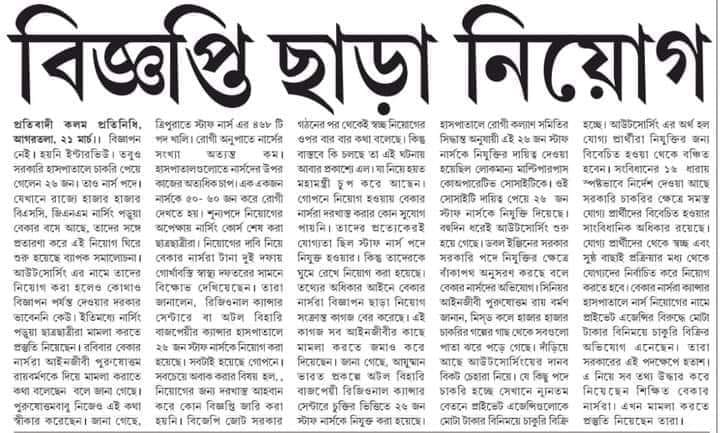 Source : Pratibadi Kalam