Tripura News
Kidnapping incident hits Tripura
TIWN Nov 28, 2020
PHOTO : Kidnapped man Litan Nath's wife talking to media. Her minor children sitting with her. TIWN Photo Nov 28, 2020
North Tripura, Nov 28 (TIWN): Amid tension has gripped Tripura due to deteriorating law and order situations, a 35 years man Litan Nath, S/O-Subodh Nath has been kidnapped in Damchara on yesterday night at around 12 O'Clock. It happened at Joyram Para near Katua bridge under Damchara PS. The kidnappers have allegedly sought Rs. 1.5 lakhs from the family. This incident has erupted massive tension across Tripura and there is no report on development in the rescue operation yet. Earlier, such incidents of "Kidnapping for Moneys" had occurred in the time of terrorism-era but then Tripura police under the previous Left Govt, had controlled the situation although many people were killed. But after long struggles, sacrifices of Police Dept for last two decades the trend was unseen in the state and public travelled all places without any tension from City-Centric areas to ADC but the same terror is in rise in Tripura again with the approaching of ADC poll.
Ahead of ADC election, this incident has horrified the state.
Litan Nath was kidnapped from his own house when full family was in sleep.
Litan Nath's wife was also injured by the mask-wearing kidnappers. She said that they were wearing black colour masks on their faces and their languages are unrecognizable and with her they were talking in Hindi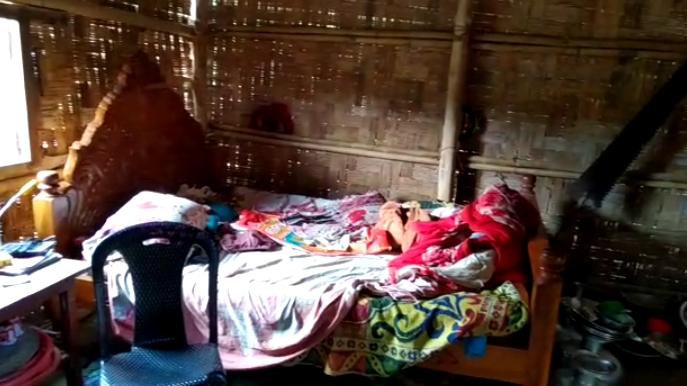 House of Litan Debnath from where he was kidnapped. TIWN Photo.