Tripura News
DSP Traffic Manas Roy Debbarma's 'Heroic Act' saved lives after BJP Hooligans Bisalgarh Attack
TIWN Aug 21, 2020
PHOTO : DYSP Manas Roy Debbarma talking to media on spot with his blood soaked uniform, amid injuries. TIWN Pic Aug 20, 2020
AGARTALA, Aug 21 (TIWN): DYSP Manas Roy Debbarma who risked his own life in the bloody political clash on Thursday at Bishalgarh sub-division of Tripura, took lead role to save people who were being injured on spot and hospitalized the injured activists, police official, but he himself is now under political firing target.
DYSP was in his duty in a faraway than the violence spot, rushed to the spot getting informed about the out-of-control situation and amid massive mob violence going on, he saved a person from mob-target by covering him with his body. His police uniform's blood was the witness of his dedication to the police services not even caring for own safety amid mob violence.
Unfortunately, politically motivated leaders are now allegedly setting for his suspension although it was Manas Roy Debbarma who controlled the situation or yesterday life-loss could happen on spot, which could be more horrible for the State Govt's reputation. The ruling BJP's hooliganism was not only witnessed in Bishalgarh police station where they mob-gathered and staged anti-police protest, but footages showed how, in humiliating, attacking mode, the rowdies were showing muscles to police. It was police who displayed tolerance.
As per the ground report it has been known – DYSP Manas Roy Debbarma who was doing his duty at some different place, was detailed to see traffic violation and enforcing traffic regulations. As soon as got information, he rushed to the spot to help his colleagues who were already outnumbered by unruly mob.
During the process of saving one injured civilian possibly a supporter of INC who was bleeding profusely, he used his body to shield that poor man. He ensured immediate evacuation of the injured using police vehicle to hospital for better treatment.
But while doing this, he himself received severe injuries but he did not leave the spot and briefed media and remained on spot until the situations are in full-control.
Obviously, for a police person it was not possible to identify political colours of mob and he was just doing his duty under the constitution and for the sake of his oath to the service to the nation and its people.
www.youtube.com/watch Massive Political clash at Bishalgrah. DYSP Manik Roy Debbarma injured in BJP, Congress's fight on Rajiv Gandhi's birth anniversary, but still on spot instead of going to hospital as he was bound to his oath to the Police Service. TIWN YouTube Video Aug 20, 2020
He was the police hero of the day and his uniform got soaked with blood of the injured as everyone and those videos are still viral.
He showed, how to accomplish duty as an honest, neutral public worker for which he is appointed with the uniform. But, an MP who also took oath to treat equally to public, without differentiating, was seen sheltering, backing the hooligans like Nabadul Banik and took their sides amid these same faces earlier attacked many people in Bishalgrah including senior opposition leaders, even slapped an ex-Minister back in 2019.
Although political statements were rocketed against police force, but Bishalgarh police have own the heart of the people and except ruling party's a section, everyone expressed satisfaction to the police's role to control Political clash either it's social media or local TV channels talk shows which received public opinions over telephone.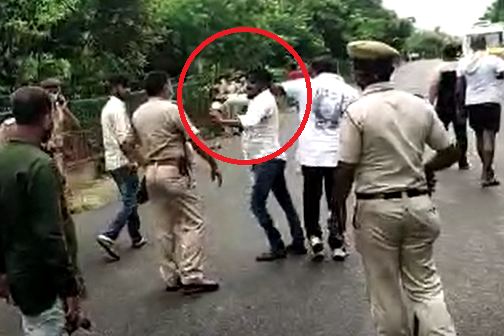 BJP workers attacking police at Bishalgarh. TIWN Pic Aug 20, 2020