Tripura News
Tripura's COVID-19 Recovery Rate is 81% : Minister Ratanlal Nath claims 'It's a National Record'
TIWN June 26, 2020
PHOTO : COVID-19 management in Agartala. Photo inset : Minister Ratanlal Nath addressing media. TIWN Photos.
AGARTALA, June 26 (TIWN): Tripura's Coronavirus patients' recovery rate is 81% which is a record breaking percentage. Addressing media, Law Minister Ratanlal Nath said that at the national level, the COVID-19 recovery rate is only 53% whereas Tripura has broken that record. "Many people might feel sad seeing the good things happening in Tripura but this is a good news indeed", added the Minister. Tripura's COVID-19 cases reached to 1295 and patient recovered 1019. Total 276 patients are under treatment that are active cases. However, India crossed the tragic milestone of 15,000 Covid casualties on Thursday with 402 fresh deaths pushing the cumulative toll to 15,300. Just five states account for 82.6% of India's fatalities.
Globally, India has the fourth highest number of infections following the US, Brazil, and Russia.The capital New Delhi remains the worst-affected city with 70,390 cases, overtaking Mumbai.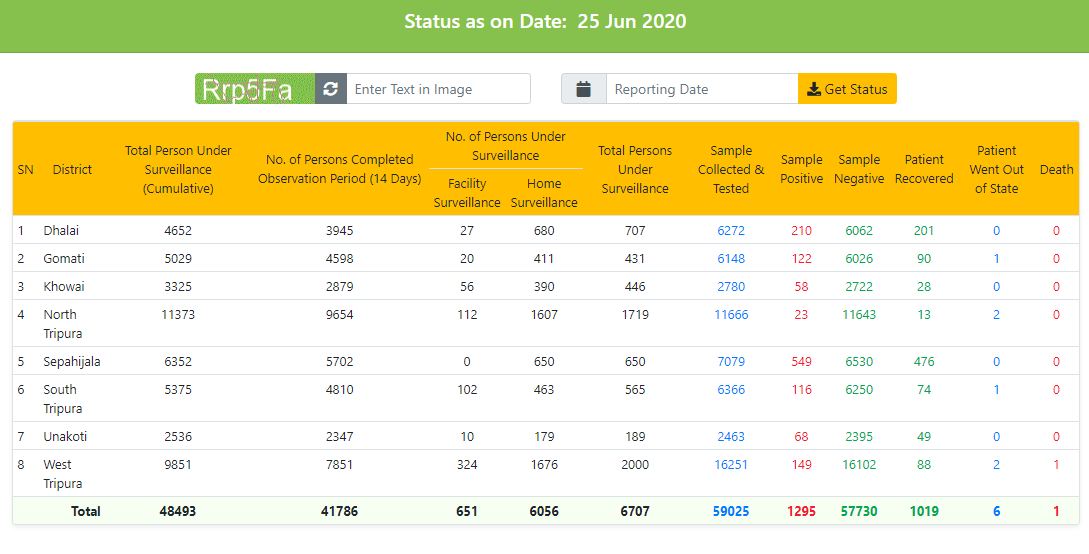 Tripura's COVID-19 Status
.