Tripura News
Niti Deb offers prayers to Lord Jagannath
TIWN June 5, 2020
PHOTO : Niti Deb offered prayers to Lord Jagannath. TIWN Pic June 5, 2020
AGARTALA, June 5 (TIWN): Purvaudaya NGO General Secretary, Tripura CM Biplab Deb's wife – Niti Deb has offered prayers to Lord Jagannath at Agartala Jagannath temple.
She paid her visit with social distances and offered 'snana' to Lord Jagannath. After water, she offered prayers to Lord Jagannath.
This year, due to COVID-19 outbreak, Jagannath Snan-Festival was although observed with all rituals but temples remained closed for the mass gathering.
Talking to media, she said that Lord Jagannath is always open to feed the world. After 100 years this has happened that whole world is suffering from a common pain. In this situation, we can only pray for our mental strength and courage to fight the pandemic.
She further hailed the Hindu religion and its spiritual beliefs and also took a dig at them, who criticize the Hindu rituals.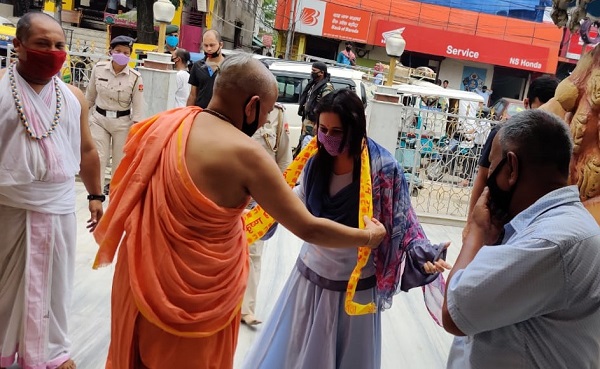 Niti Deb visited Lord Jagannath temple on Snan Jatra. TIWN Pic June 5, 2020