Tripura News
TIWN's Prediction proven True as Anti-CAA protest launchers totally fooled by JUMLA : Joint Movement condemns Central Govt's led insults after calling them at Delhi, announced bigger Anti-CAA protest ahead, Lesson taken from JUMLA
TIWN Jan 19, 2020
PHOTO : Joint movement committee's press meet at Agartala Press Club. TIWN Pic Jan 19, 2020
AGARTALA, Jan 19 (TIWN): Tripura CAA protestor Leaders got taste of JUMLA which was predicted by TIWN back in Dec'2019. Regional parties led 'Joint Movement Committee' which started a massive protest across Tripura against Citizenship Amendment Act (CAA) since December 9, 2019 for indefinite time, after 3-days of continuous protests had upset the agitators. They had disappointed the agitators after withdrawing their protest suddenly followed 'cups of tea' with Amit Shah in exchange of BJP's JUMLA promises and deceived successfully by State & Central BJP leaders. After more than a month, the regional party leaders announced before media on Sunday how they were fooled and how in last few days they were insulted again by calling them to Delhi but not meeting them. They alleged, they were called at Delhi but the Union Home Minister never met them.
Tripurainfoway.com (TIWN) reported on that time (December, 2019) that the BJP which shutdown various media houses, arrested journalists and filed fake cases against Editors, political violence spread across and kept Vision Document 100% unfulfilled including 50,000 Govt jobs in 1-year would never fulfill its oral-promises on CAA.Technically, TIWN reporting turned a fact when the Tiprasa leaders got enough lesson.
On that time, the leaders withdrew protest after Amit Shah assured to look after the issue and also reportedly. Also, CM Biplab Deb assured that they do not have to worry but now after the protest is downed, BJP has shown its true colour.
https://www.youtube.com/watch?v=2Z86oIHLJjk&feature=youtu.be&fbclid=IwAR0h8NY7WWz9s_XaJl8KtvdKHk6WqdyaQckxZ21G-oTIkDLmuyvHTeklPQE TIWN YouTube Link, Joint Movement's today's protest
The leaders again recently were called to Delhi and kept on waiting and at last, they weren't met by the Home Minister or any Minister, leader. Addressing media, Antony Debbarma said, "Such ill treatment can not be tolerated. This was totally insult of the people here".
Other leaders said, if the Govt thinks it can curtail voice like this, it is wrong. In the coming days, protest is going to be more stronger. The joint movement will hold a meeting soon.
https://www.youtube.com/watch?v=I2gQby6U6zg&feature=youtu.be&fbclid=IwAR3-_1mee1yjO14ilm-LYp2vVtfhCcwlaFjiUBb-yVqPHLC0cmC8HX_GjHg TIWN YouTube Link, Joint Movement's today's protest
They went to Delhi on January 9 after being called by Central and State Govt jointly, but at last nobody met them.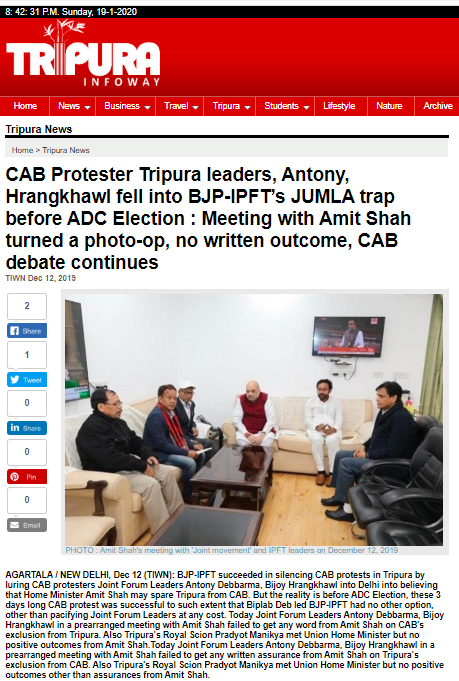 TIWN's prediction news filed on December 12, 2019