Tripura News
'Have to create pressure on BJP Govt from all sides, just like mustard seeds are squeezed brutally to bring out the oil' : Manik Sarkar
TIWN Jan 4, 2020
PHOTO : Manik Sarkar walking in trade unions' rally at Agartala. TIWN Pic Jan 4, 2020
AGARTALA, Jan 4 (TIWN): Ahead of January 8 strike in Tripura along with nationwide trade unions called strike, CPI-M Politburo member, former Chief Minister Manik Sarkar has asked his party workers to create that much pressure on BJP all sides that the oil comes out just like mustard oil as only one strike will never be enough to fulfill all demands. Addressing at CITU and other trade unions' rally, Manik Sarkar on Saturday said, "BJP is very small in supports and numbers. They are now very afraid and thus trying its best create pressures on people so that they get afraid and with this sole agenda they are attacking the people all over India like this. They want to lock everyone in jail across India and trying to run over Steamrollers on people's chest a but this is nothing but BJP's self-imagined night mare. We have to tell them that it is a dream and a nightmare, never to be fulfilled when whole country is now on protest.
They don't have support from the maximum. To prove it we have to succeed 8th January's strike and alone with the whole nation by the observing the strike in Tripura too, we have to give this clear message".
https://www.youtube.com/watch?v=g9nUGulg6Vg&feature=youtu.be&fbclid=IwAR0Q60ZOJuGnjh84IxgZRStGHBijP-6WisXuoz-zs3qom7GjXiHVcyJyMCc Click TIWN YouTube Link, Manik Sarkar's speech
Sarkar further asked Govt employees not to be afraid of ESMA like black laws. He said, humans are most powerful elements of earth. There is no power above when united people stand together.
"I would request all the sections of people to support our strike as an outrage of anger against the Govt. Again, this strike is not the ending but the pressure has to continue", he added.
Manik Sarkar further said that by a successful strike BJP will get a clear message again.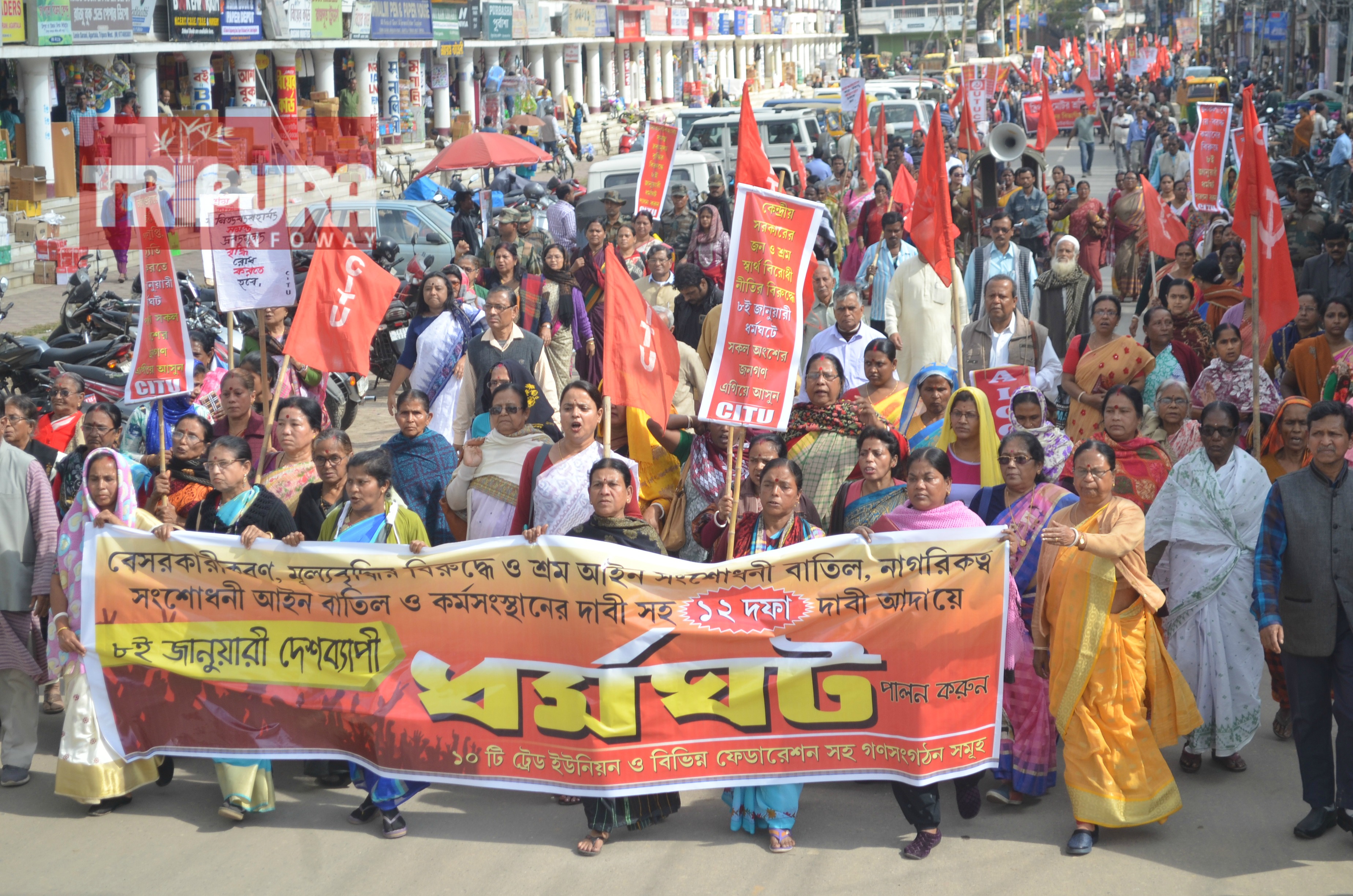 CITU rally in Agartala on jan 4, 2020
"Everyone is with us. Except, the rulers, all the people including their organizations' working classes are with us. Remaining few, who are none other than rulers are trying to run Steamroller on people's chest but let's prove it as their nightmare", he said.
https://www.youtube.com/watch?v=ISZsZtqOw-k&feature=youtu.be&fbclid=IwAR0T3nAf0zCjx2nEbU1mlB13TpvfvXPGarhkG-o-UHifOKjHi3zxwgQcHRs Click TIWN YouTube Link, Manik Sarkar's speech
Calling for a successful strike, Manik Sarkar told the all sections of people to give support to give a clear message to the Govt.