Tripura News
Biggest Jolt in 21 months for Biplab Deb as BJP's 'Control Room' fails to sabotage Sudip Barman's massive rally : Amid transport blockade, power-cut across Tripura, united supporters flooded Agartala city raising voice against 'Rape Culture'
TIWN Jan 3, 2020
PHOTO : MLA Sudip Barman hoisted massive rally in Agartala against Rape Culture. TIWN Pic Jan 3, 2020
AGARTALA, Jan 3 (TIWN): Amid Much obstacles created by the BJP Party led by Chief Minister Biplab Deb and MP Pratima Bhowmik when their MLA Sudip Barman, who was earlier sacked from his Ministry in political ego-clash, called for an apolitical rally against the "Rape Culture" and abnormal mindset increasing against women, the rally turned a massive success and at the same time it has been marked as Biplab Deb's biggest jolt in last 21 months of BJP rule. At the same time, it is jolt for Pratima Bhowmik and Biplab Deb's other company too who from the beginning played various intrigues against Sudip Barman from sacking him from Ministry to insult him during his tenure as a Minister. Sudip Barman today asked media, whether all badmouthing done against him in last few days after he called this rally and many intrigues including removal of banners, could they stop the people to come ? Sudip Barman also said, he never provided any vehicle to the rally participants, signaling yesterday's forceful rally of BJP against his today's rally.
Today Dr J K Debbarma, who served as Director of Health Services when Barman was the Health Ministry also joined the rally as it is not a political rally. The rally was one of the biggest rallies of last 21 months.
https://www.youtube.com/watch?v=B89gih47cFQ&feature=youtu.be Click TIWN YouTube Link to see Sudip Barman's statement
The BJP has created various hurdles from vehicle abandoning to house to house threatening asking not to join Sudip Barman's rally. Bharatiya Mazdoor Sangha (BMS) members were appointed on national highway today to stop rally participants by identifying them from each and every vehicle so that they can not join the rally.
Biplab Deb led BJP party has set a control room like setting to fail Sudip Barman's rally, but all vanity ended when common men without political identity joined the rally courageously with one voice against the Rape Culture.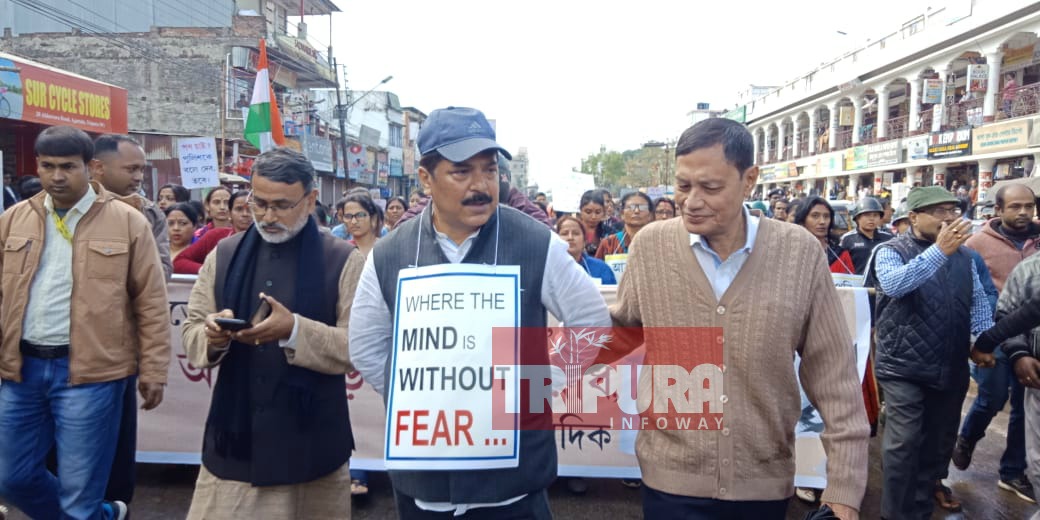 Dr J K Debbarma, who worked with Ex-Health Minister Sudip Barman as Director of Health Services joined the rally. BJP MLA Ashish Saha too joined the rally.
Sudip Barman said, why even one rape would happen ? What is the local leaders' problem when PM Modi himself keeps Zero-Tolerance against rapes and crimes against women ?
Participants came with Indian flag in hands and umbrellas amid cold and rain.
On being asked by media, from which party the people are, Sudip Barman said, he himself doesn't know who are they and from where they are ! He also said, he doesn't bother who says what about him. High Official of Health Dept, who worked with Sudip Barman during Barman's Health Ministry was seen today in the rally. Sudip Barman said, his rally is "Not a Political Rally", this is for daughters and his sisters.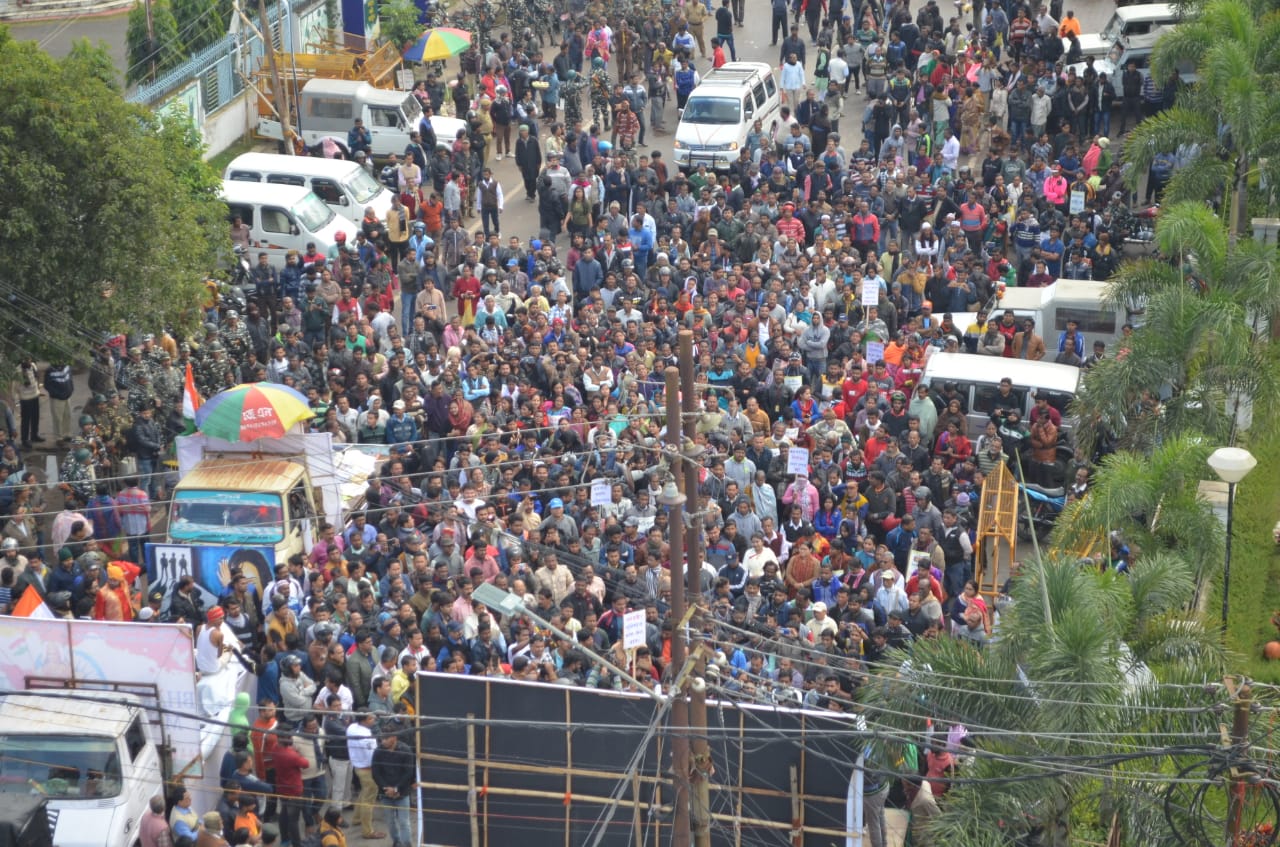 Sudip Barman's rally today at Agartala