Tripura News
BPL family's man dies in Tripura's biggest Govt hospital due in wait of Endoscopy
TIWN Dec 3, 2019
PHOTO : GB hospital (File Photo)
AGARTALA, Dec 3 (TIWN): A man has died in wait of endoscopy at the GB hospital in capital city Agartala.
The dead patient Late Bhajan Sarkar, resident of Teliamura was admitted in GB hospital before 5 days of his death.
He was undergoing critical health issues, belongs to a BPL family but there was allegedly negligence and the endoscopy was dated on December 4 whereas he died on November 27.
Endoscopy is a nonsurgical procedure used to examine a person's digestive tract. Using an endoscope, a flexible tube with a light and camera attached to it, your doctor can view pictures of your digestive tract on a color TV monitor.
On the other side, Govt of Tripura has recently scrapped all free health facilities with few relaxations for the BPL families.
Earlier also due to lack of moneys, patient Promod Modok had died. One school girl recently died in need of blood.
Such critical situations erupted since one highly Educated, science academic background holder Health Minister Sudip Barman was terminated from Ministry and Tripura CM Biplab Deb took charge of Health Dept.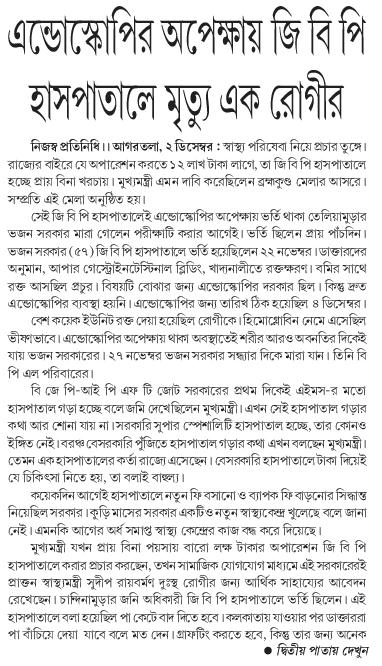 NEWS PUBLISHED IN A BENGALI LOCAL DAILY