Tripura News
Tripura Govt protests against Syandan Patrika's FAKE News on CM OSD's Helicopter travel, wasting Lakhs of Govt Funds
TIWN Aug 11, 2019
PHOTO : Syandan Editor Subal Dey & Today's FAKE news on CM OSD's spending Lakhs of money for entertainment. TIWN
AGARTALA, Aug 11 (TIWN): Tripura Govt officially (via a Press Release) protested against a FAKE news of Syandan Patrika Published on 11th August, 2019 on CM OSD's Helicopter ride.
Press Note issued by MD, TRTC mentioned that CM OSD paid their regular fares, booked ticket and travelled following official rules rather than Syandan Patrika's fabricated news of CM's OSD spent lakhs of money on Helicopter ride for entertainment.

In the protest press release, Managing Director of TRTC said, "The news which is titled by Chopper-Saukh-of-CM's-OSD has attempted to malign the image of the Govt by hiding the truth and displaying a fabricated, fake story".
Tripura Govt / TRTC MD's Press release against Syandan Patrika's FAKE News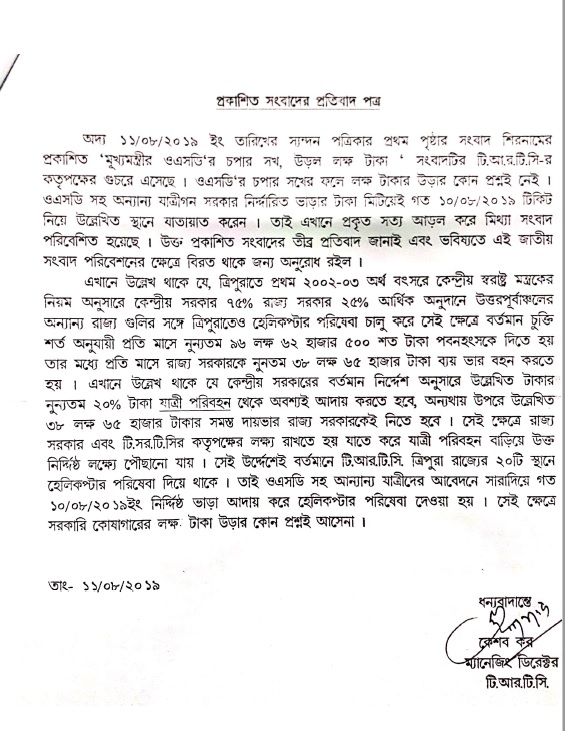 "TRTC has given a stern reply to the newspaper's fake claims saying, according to central govt's rule, 75% by centre and 25% by state funding the Northeast states get the helicopter services. Under that rule, Tripura also started that facility for which 96,52,500 rupees are costed each month and State Govt has to pay 38 lakhs 65 thousand for it. According to rule 20% has to be given from state and TRTC takes care of the thing and thus to increase the earning for the expenditure, TRTC have increased the passengers service in 20 more places. After paying whole fare all officials have visited there and question doesn't arise that it was funded by State Govt", said Keshab Kar, the Managing Director of TRTC.

Syandan Patrika Editor Subal Dey alongwith Headlines Tripura Editor Pranab Sarkar are notoriously known for serving FAKE news to blackmail various Govt servants to Politicians.

Serving FAKE news, then blackmailing, followed by extortion is a well-known modus-operandi by these type of Media crooks.

Even both grabbed Agartala Press Club President & Secretary Posts via no-contest rugged Election, apart from that Pranab Sarkar organized Tripura's first FAKE national awards ceremony RPA National Award only to reward himself.
Pranab Sarkar's FAKE RPA Awards cereminy is a shame on Journalism and more details in this below link
tripurainfoways.com/news-details/TN/106011/tripura-s-first-fake-national-award-ceremony-organized-by-jumla-dalal-pranab-rpa-national-journalism-award-2018-a-black-dot-in-journalism.html