Tripura News
Tripura's Media Mafia Pranab Sarkar's Headlines Tripura running extortion empire : FIR filed against 'Headlines Tripura' channel Journalist for blackmailing, money extortion threat to Police Officer
TIWN Aug 24,2019
PHOTO : TIWN Pics: Extortionist Sujit Barua, Kanchanpur Police Station, SI Ramkrishna Das, SI's car in pond, Chief extortion planner Pranab Sarkar. TIWN Pics
AGARTALA / KANCHANPUR, Aug 24 (TIWN): Tripura's noted media mafia cum Agartala Press Club's self appointed Secretary Pranab Sarkar now accused of engaging his reporters to extort even from Police officials. A fresh extortion case FIR filed against Sujit Barua, a Journalist working in Pranab Sarkar's TV channel "Headlines Tripura". Extortion scam exposed after police official Ramkrishna Das lodged FIR against Sujit Barua, a journalist of "Headlines Tripura". Sujit Barua under Headlines Owner Pranab Sarkar's directions demanded Rs 40,000 to Rs 50,000 extortion money from Kanchanpur Police Station SI Ramkrishna Das. After SI Ramkrishna Das refused to pay extortion money for blackmailing him via Headlines Tripura News, so Sujit Barua alongwith other two criminals attacked SI Ramkrishna Das and pushed SI's car and SI into a shallow pond with the intention to murder police officer.
After pushing Police Officer's vehicle into pond, then Sujit Barua & Headlines Tripura published a FAKE news that SI Ramkrishna Das was drunk and drove his vehicle into a pond. Today SI Ramkrishna Das filed FIR against Sujit Barua & Headlines Tripura for this criminal act of extortion.
Kanchanpur SI Ramkrishna Das said to TIWN & other Medias that "Since few days, one Headlines Tripura Journalist named Sujit Barua was demanding Rs. 40,000 to Rs. 50,000 from me in phone and also face to face. Then I asked the purpose and he said that due to Durga puja coming ahead I have to give him the money. Then I told him, there is no reason to give him money and GD entry was done under the knowledge of OC and SDPO. I was going to Srirampur and Sujit Barua saw me and called me in phone. He said, he wanted to talk to me. I avoided him but when I was towards Srirampur on that time 3 persons gave me signal and I stopped there and suddenly one Tom Tom met an accident with me and immediately few people gheraoed me and threw my car in the water-body, snatched my phone".
"Their ( Sujit Barua) planning was very bad. They planwise stood there and the people who gathered as public, where plan-wise set there. The Sujit Barua screamed and called people, telephoned many to blame me", said Kanchanpur SI Ramkrishna Das. Alongwith Sujit Barua, another noted extortionist cum Journalist Bishwajit Saha also mentioned in Police FIR.
SI Ramkrishna Das filed FIR against Headlines Tripura Journalist Sujit Barua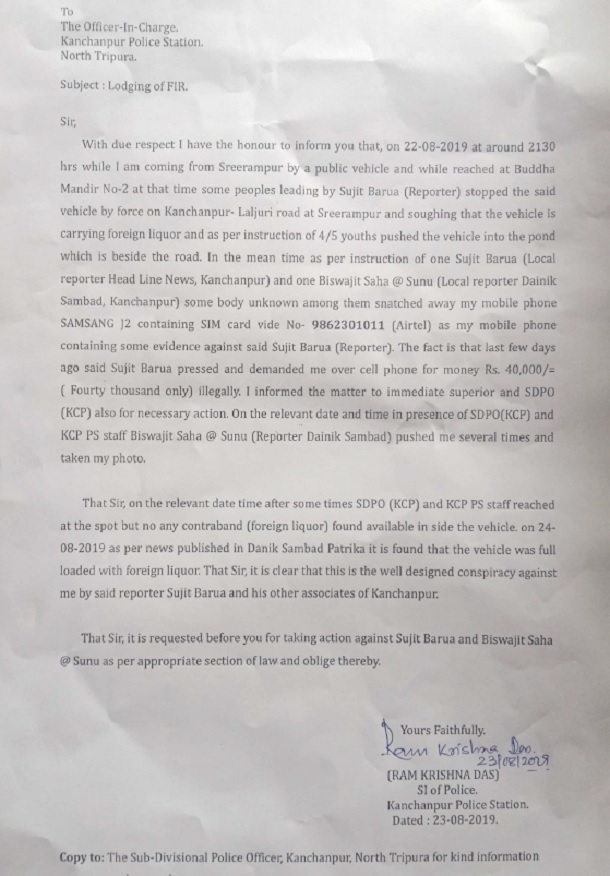 In the FIR it has also been said that Sujit Barua snatched SI Ramkrishan Das's mobile phone which kept various blackmailing evidences against Barua.
Earlier also similar extortion allegations came against Pranab Sarkar's media Headlines Tripura. Former BJP and Congress IT call person, a Headlines Tripur Staff Anupam Paul who was arrested by police for being part of news blackmailing.
Now, one more media person of this channel Sujit Barua has been exposed after the police official filed FIR against him and earlier GD entry was done due to money extortion and blackmailing. In this situation the reliability and quality of the news-contents are easily imagined.
Pranab Sarkar continue running extortion racket by using Journalists Sujit Barua or in past Anupam Paul type of characters only because of flaunting his close relationship with Chief Minister Biplab Deb.
Tripura's media mafia Pranab Sarkar selling his closeness with Chief Minister Biplab Deb and continue extortion rackets, now not even sparing Police officials.