Tripura News
After Official protest against Syandan Patrika's FAKE News on CM OSD's wasting Lakhs of Govt Funds in Helicopter Travel, authorities mulling to send note to I&B Ministry / RNI for Newspaper license suspension
TIWN Aug 14,2019
PHOTO : Syandan Editor Subal Dey & Today's FAKE news on CM OSD's spending Lakhs of money for entertainment. TIWN
AGARTALA, Aug 14 (TIWN): Syandan Patrika may face I&B Ministry's RNI license suspension as this paper continue to harass Govt Officials including Chief Minister's Office (CMO) OSD via FAKE news of wasting Lakhs of Govt funds for personal entertainment with Helicopter Travel.
In spite of State Govt, TRTC MD's strongly worded protest letter against Syandan Patrika's FAKE news, still its notorious Editor Subal Dey wrote in yesterday's news insulting TRTC MD Kesab Kar as 'Sheyal Pandit" – in slang it means a big fool and then continued using dirty language on OSD Sanjay Mishra.
Syandan Patrika's Editor Subal Dey notoriously known for extortion-master by publishing FAKE news first, and then blackmail, followed by extortion.
With sole intention of blackmailing & money extortion, Editor Subal Dey published this FAKE news of wasting Lakhs of Govt funds against CM's OSD on August 11,2019. After Govt protest via TRTC MD's letter that no Govt money was spent and OSD paid for Helicopter fares, then Subal Dey via his Syandan News on Aug 13,2019 insulted TRTC MD Kesb Kar in foul language, then went on personal attack against OSD Sanjay Mishra by calling Mishra was picked from Bihar and functioning as 'KUCHAKRI" which means EvilDoer with hint of corruption and using Chief Minister's office to waste lakhs of Govt Funds.
Due to use of a print media as a tool for blackmailing & extortion of Govt officials, State Govt is mulling to take action against Syandan Patrika.
Also mockingly, many in Tripura call this Orange Color Haired Monkey Subal's Yellow Journalism is nothing but a shame for Tripura's Press.
In spite of Govt protest letter against the FAKE news of wasting Lakhs of Govt funds for personal entertainment, State Govt mulling to send note to I&B Ministry to ban this newspaper temporarily till it tenders apology.
On August 11,2019, Tripura Govt officially (via a Press Release) protested against a FAKE news of Syandan Patrika Published on 11th August, 2019 on CM OSD's Helicopter ride.
Press Note issued by MD, TRTC on August 11,2019 mentioned that CM OSD paid their regular fares, booked ticket and travelled following official rules rather than Syandan Patrika's fabricated news of CM's OSD spent lakhs of money on Helicopter ride for entertainment.

In the protest press release, Managing Director of TRTC said, "The news which is titled by Chopper-Saukh-of-CM's-OSD has attempted to malign the image of the Govt by hiding the truth and displaying a fabricated, fake story".
Tripura Govt / TRTC MD's Press release against Syandan Patrika's FAKE News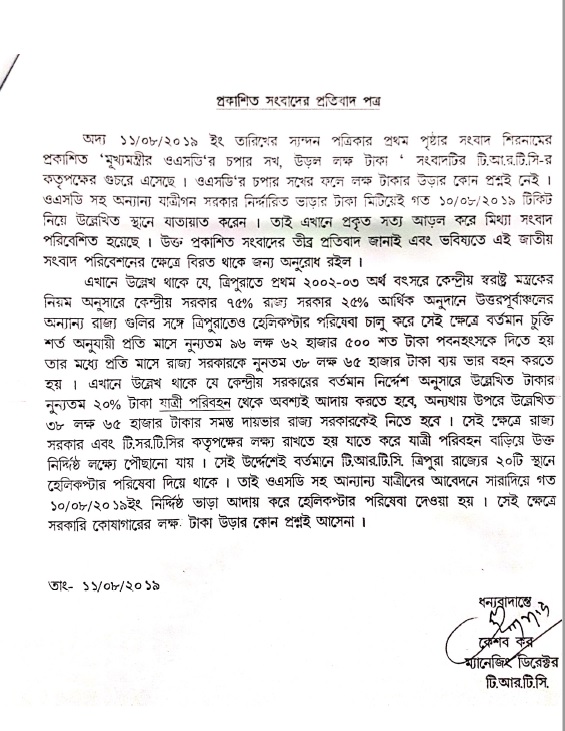 "TRTC has given a stern reply to the newspaper's fake claims saying, according to central govt's rule, 75% by centre and 25% by state funding the Northeast states get the helicopter services. Under that rule, Tripura also started that facility for which 96,52,500 rupees are costed each month and State Govt has to pay 38 lakhs 65 thousand for it. According to rule 20% has to be given from state and TRTC takes care of the thing and thus to increase the earning for the expenditure, TRTC have increased the passengers service in 20 more places. After paying whole fare all officials have visited there and question doesn't arise that it was funded by State Govt", said Keshab Kar, the Managing Director of TRTC.

Syandan Patrika Editor Subal Dey alongwith Headlines Tripura Editor Pranab Sarkar are notoriously known for serving FAKE news to blackmail various Govt servants to Politicians.

Serving FAKE news, then blackmailing, followed by extortion is a well-known modus-operandi by these type of Media crooks.

Even both grabbed Agartala Press Club President & Secretary Posts via no-contest rugged Election, apart from that Pranab Sarkar organized Tripura's first FAKE national awards ceremony RPA National Award only to reward himself.
Pranab Sarkar's FAKE RPA Awards cereminy is a shame on Journalism and more details in this below link
tripurainfoways.com/news-details/TN/106011/tripura-s-first-fake-national-award-ceremony-organized-by-jumla-dalal-pranab-rpa-national-journalism-award-2018-a-black-dot-in-journalism.html
Subal Dey started his life as a Tea Seller in Melarmath area, Agartala around 1968, followed by selling vegetables near Bhuturia Company, Agartala in 1970s, followed by that Subal chosen blackmailing as a main profession to mint money.
Notorious Subal's modus operandi is straight-forward, first Syandan Patrika will publish a negative news against a Govt Official and harass him, followed by phone calls/his reporters visits to that victim extorting for cash, and then stops news upon cash collection.
Subal Dey's mysterious role in Syandan Journalist Sudip Datta Bhowmik's cold blooded murder by TSR 2nd Btn Commandant Tapan Debbarma & by Commandant's personal Security guard Nandu Reang on Nov 21,2017 at TSR 2nd Btn HQ demands a fresh investigation.
Police sources informed that, Subal Dey via his Syandan Patrika started blackmailing TSR Commandant Tapan Debbarma from September'2017 over a extra-marital affair photograph and then started money extortion by publishing news on Tapan Debbarma's personal life, his alleged corruption, then demanded further huge amounts of money which TSR Commandant Tapan Debbarma refused to pay. Then Subal Dey sent his Journalist Sudip Datta Bhowmik to TSR 2nd Btn HQ to meet Commandant Tapan Debbarma, there all these extortion related heated arguments lead towards killing innocent Sudip Datta Bhowmik in point blank range shooting by TSR Commandant Tapan Debbarma.
Blackmailer & Extortion Master Subal Dey started playing the same game of publishing negative news against CM's OSD with sole intention of extortion, but rather than compromising with blackmailing, CM's OSD & State Govt via TRCT MD sent a strong letter to Syandan Patrika to stop publishing FAKE news and apologize for defaming Chief Minister's office.